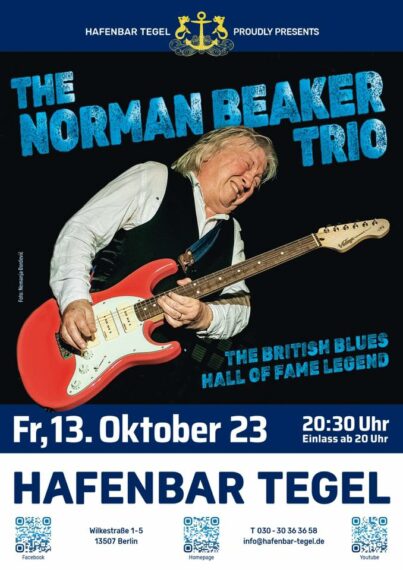 October 13, 2023
Norman Beaker
Time: 8.30PM
Venue: Hafenbar Tegel
Country: GER
Das Norman Beaker Trio | Blues Hall of Fame Member gastiert am 13.10.2023 in der Hafenbar Tegel, Berlin – Der Vorverkauf hat begonnen!
Nun schon zum vierten Mal, tritt der britische Ausnahme-Bluesmusiker in seinem "Berliner Wohnzimmer", der Hafenbar in Tegel auf. Und auch dieses Mal verspricht der Künstler, den Abend wieder zu einem unvergesslichen Erlebnis, für die Fans guter Bluesmusik werden zu lassen. So wie er das mit seiner Band schon bei den drei Konzerten zuvor getan hat.
Seit über 20 Jahren ist der Brite permant mit seiner Band unterwegs und präsentiert dabei eine Mischung aus allen Arten des Blues, voller Energie und gespickt mit viel Humor.
Norman Beaker steht seit mehr als 4 Jahrzehnten an der Spitze der britischen Bluesszene. Er spielte unter anderen mit: Alexis Korner, Graham Bond, Jack Bruce, Tony Ashton, Paul Jones, Eric Burdon und viele anderen. Regelmäßig tourt er mit Larry Garner und Chris Farlowe durch Europa.
BB King kommentierte: "Norman ist wie ein weißer Freddy King"! Ein großes Kompliment und nicht verschwendet, denkt man an die vielen Künstler, mit denen Norman im Laufe seiner Karriere zusammenarbeitete. Darunter waren z.B. BB King, Jimmy Rogers, Buddy Guy, Lowell Fulson, Van Morrison, Fenton Robinson, Chuck Berry , Carey Bell, James Booker, Jon Lord und Ruby Turner.
Im Jahr 2017 wurde Norman in die Blues Hall of Fame® aufgenommen, in der Tat eine prestigeträchtige Anerkennung und nur eine Handvoll britischer Künstler können dasselbe von sich behaupten, darunter Eric Clapton und Jack Bruce, um nur zwei zu nennen!
Einlass: 20:00 Uhr