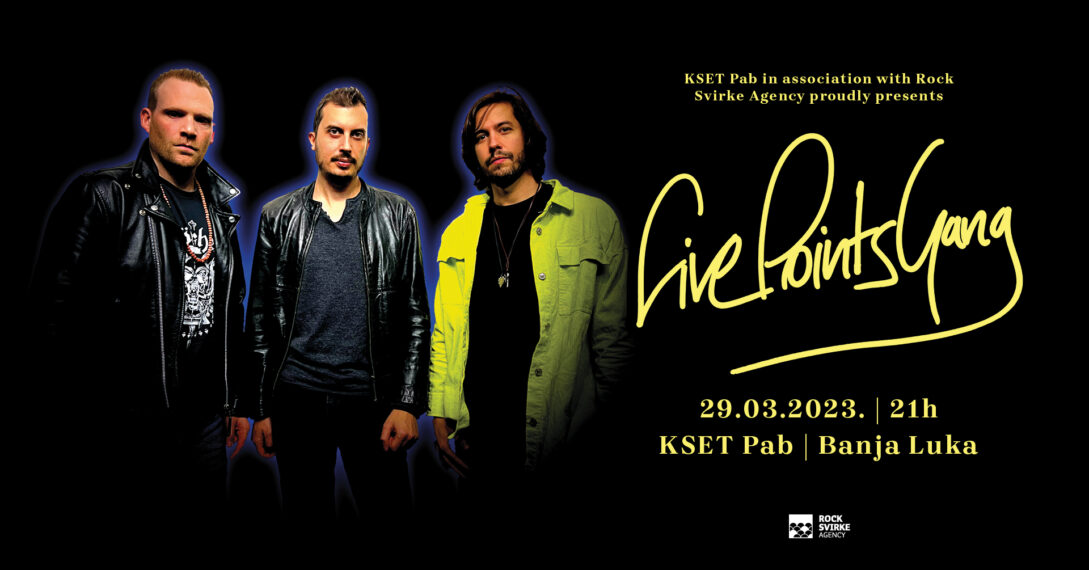 March 29, 2023
Five Points Gang
Time: 9PM
Venue: KSET Pab
Country: BIH
Five Points Gang održaće svoj premijerni nastup, 29. marta 2023. godine u KSET Pabu u Banja Luci sa početkom u 21 čas gde će promovisati aktuelni studijski album "Wanted"
20:00 Ulaz
21:00 Koncert
Ulaznice:
8 KM – promo (ograničen kontigent do 1. marta)
12 KM – pretprodajna cena (od 1. do 29. marta)
16 KM – na dan koncerta
Prodajno mesto: KSET Pab
Rezervacija ulaznica moguća putem mejla: office@rocksvirke.com (ime i prezime, kontakt telefon).
Recenzije:
"Their live sets are phenomenal and very loud" — Blues Matters
"A Welshman, a Frenchman, and a Greek walk into a bar…and blow the place apart!" — Glasgow Blues Players
"A sound that sets them (Five Points Gang) apart from more customary blues-rock outfits… truly great tracks" — Blues in Britain
"Five Points Gang managed to breathe new life into the present blues/rock scene" — Rootstime.be
"An immense album… Each song is a statement; the playing is incredibly well-executed, and the production sounds expensive!" — Blues Matters
Five Points Gang jedan je od najmoćnijih i najoriginalnijih nadolazećih bendova na britanskoj muzičkoj sceni. Oni bi, prema rečima svojih obožavatelja, trebali postati najveći rock & roll bend na svetu.
Džo, Dino i Tanos preselili su se u London s istim snom, a ovaj slučajni susret trojice već uspešnih muzičara pokrenuo je neverovatnu muzičku vezu koja je postala temelj eksplozivnom zvuku koji je već nazvan "redefiniranjem bluesa".
Sa više od 200 hiljada slušalaca koji ih slušaju na radio stanicama i platformama za striming, i hiljade onih koje su oduševili njihovi neverovatno snažni nastupi uživo, Five Points Gang brzo postaje najuzbudljiviji bend u usponu iz Engleske.
Debitantski album Wanted objavljen je za Lunaria Records u oktobru 2021. godine i dobio je ogromne pohvale kritike (Blues From the Ouse »Album godine) zbog sjajnog pisanja pesama, iznimnog muziciranja i svežeg pogleda na blues.
Od ukidanja ograničenja karantina u avgustu 2021., odsvirali su preko 100 koncerata širom Ujedinjenog Kraljevstva, nastupili na 15 festivala i već imaju bukirane dve evropske tuneje u 2023. godini.
Energični trio nadaleko poznat po tome što uvek teraju svoje nastupe do krajnjih granica i uprkos tome što su okupani znojem i umorni od puta, a i publika iscrpljena, svi žele još. Five Points Gang zaista je međunarodni bend – prema rečima jednog recezenta: » Velšanin, Grk i Brazilac uđu u bar … i raznose ga na komadiće!"