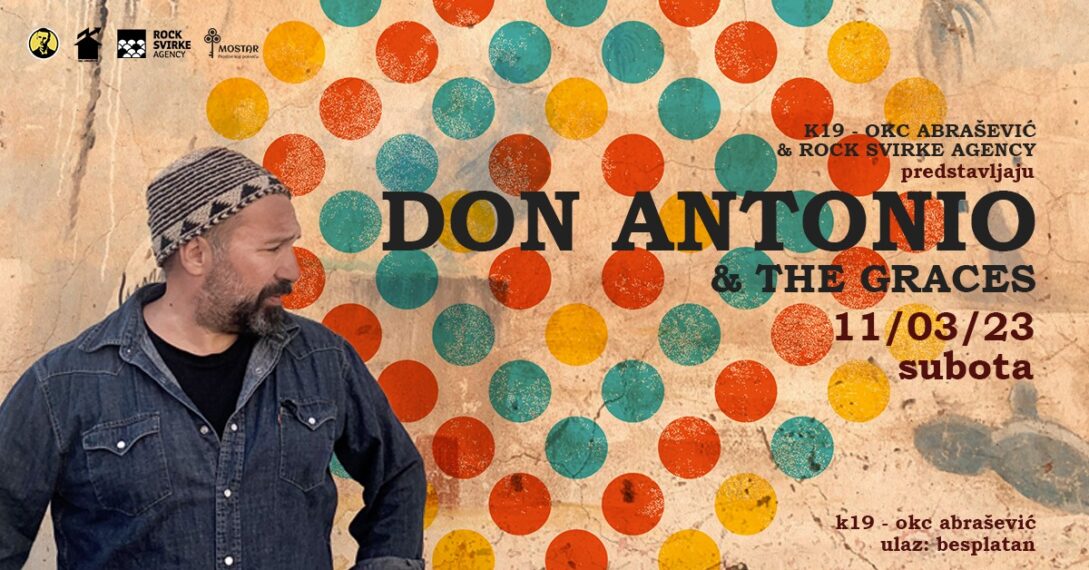 March 11, 2023
Don Antonio
Time: 9PM
Venue: OKC Abrašević
Country: BIH
Don Antonio, talijanski trubadur, bivši član sastava Sacri Cuori, objavio je treće studijsko izdanje pod nazivom Colorama i dolazi ga predstaviti u K19 – OKC Abrašević u Mostaru.
Colorama nas sve vraća instrumentalnoj glazbi, svemirskom zvuku, u talijansku filmsku glazbu, američke i afričke pustinje i otkačeni folklor regije Emilija-Romanja.
Čak i prije objavljivanja, glazbu je preuzeo Netflix kao dio soundtracka njihove serije FORTUNE SELLER: A TV SCAM.
Snimljen i komponiran sa toskanskim duom The Graces, kojeg čine bubnjar Piero Perelli i gitarista Luca Giovacchini u studiju Crinale – izgubljenom u padinama Emilije – Romanje.
Prije nego što se svijet zaustavio 2020. Godine Don Antonio je više od desetljeća bio na turneji po SAD-.u, Velikoj Britaniji I kontinentalnoj Europi sa svojom sinematskom glazbom, prvo sa sastavom Sacri Cuori, a zatim kao Don Antonio sa pratećim bendom, također kao pratnja Alejandra Escoveda (njihova saradnja na ploči The Crossing također je dovela do gostovanja u emisiji This Morning na CBS televiziji, na televiziji BBC, emisiji Tiny Desk i drugima), Dana Stuarta iz Green of Red, Richarda Bucknera i drugih, kako na koncertima, tako i na albumima.
U međuvremenu, bio je bavio se komponiranjem muzike za filmove, dokumentarce i reklame, a čak se pojavio u talijanskoj seriji L'Alligatore.
K19 – OKC ABRAŠEVIĆ
11.03.2023. | SUBOTA
ULAZ: BESPLATAN