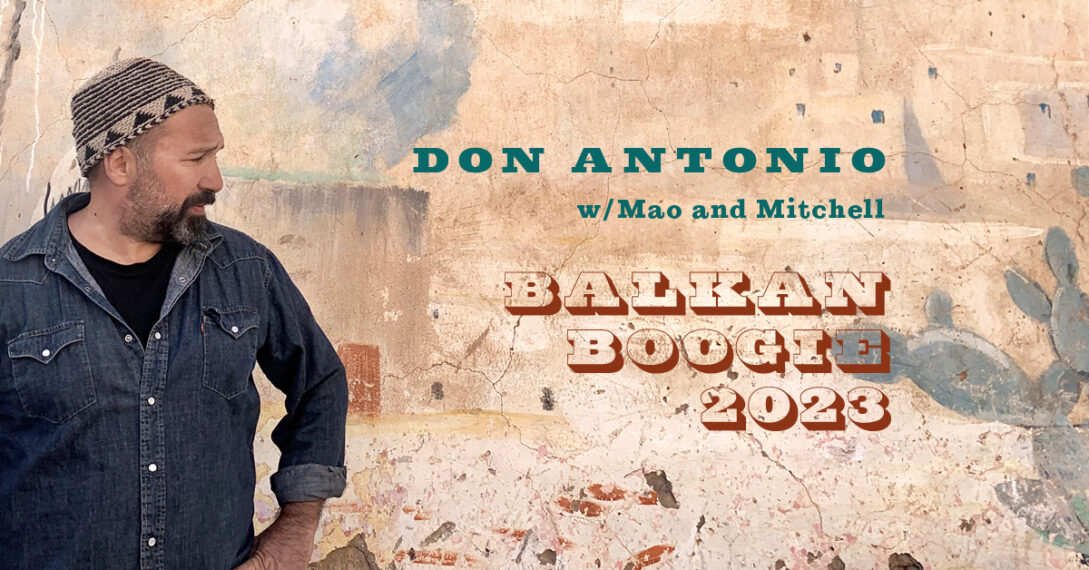 March 16, 2023
Don Antonio
Time: 8PM
Venue: Black George
Country: SRB
Don Antonio, italijanski trubadur, (bivši član sastava Sacri Cuori) i njegov sastav održaće svoj nastup u Black George-u četvrtak 16. marta 2023. godine u sa početkom u 21 čas gde će promovisati aktuelni studijski album "Colorama":
20:00 Ulaz
21:00 Koncert
Ulaznice:
600 RSD – pretprodajna cena (do 16. marta)
800 RSD – na dan koncerta
Prodajno mesto: Black George
Rezervacija ulaznica moguća putem mejla: office@rocksvirke.com (ime i prezime, kontakt telefon).
Recenzije:
"A deep, fun, intense southern trip from the Mediterranean to the Pacific Ocean, from the Adriatic sea to El Rio de la Plata" – Gideon Coe on BBC Radio 6 Music
"A Masterpiece" – Blow Up Magazine
"Wonderful, Cinematic, Italian and International" – Boomerang
"5 stars (on 6)" – MusikExpress
Colorama nas sve vraća instrumentalnoj muzici, svemirskom zvuku, među italijansku filmsku muziku, američke i afričke pustinje, granica i otkačenog folklora regije Emilija-Romanja. Čak i pre objavljivanja, muziku je preuzeo Netflix kao deo saundtreka njihove emisije FORTUNE SELLER: A TV SCAM.
Snimljen i komponovan sa toskanskim duom The Graces, kojeg čine bubnjar Piero Perelli i gitarista Luca Giovacchini u studiju Crinale – izgubljenom u padinama Emilije-Romanje – Colorama uzima najrazličitije zvukove sveta, prikupljenih tokom godina na turneji, kreirajući snažan stilski predložak.
Pre nego što se svet zaustavio 2020. godine Don Antonio (Antonio Gramentieri) je više od decenije bio na turneji po SAD, Velikoj Britaniji i kontinentalnoj Evropi sa sopstvenom sinematskom muzikom, najpre sa sastavom Sacri Cuori, a zatim kao Don Antonio sa pratećim bendom, takođe kao pratnja Alejandra Escoveda (njihova saradnja na ploči The Crossing takođe je dovela do gostovanja u emisiji This Morning na CBS televiziji, na televiziji BBC, emisiji NPR-Tiny Desk i drugima), Dana Stuarta iz Green on Red, Richarda Bucknera i drugih, kako na koncertima, tako i na albumima. U međuvremenu, bavio se komponovanjem muzike za filmove, dokumentarce i reklame, a čak se pojavio u italijanskoj seriji L'Alligatore.
"Moja muzika je uvek muzika za imaginarne filmove", kaže Don Antonio, "i to je bila tako srećna okolnost da se ovaj album ukrsti sa zahtevima Netflixa dok je još uvek je bio u procesu snimanja, a onda je postao njegov deo".