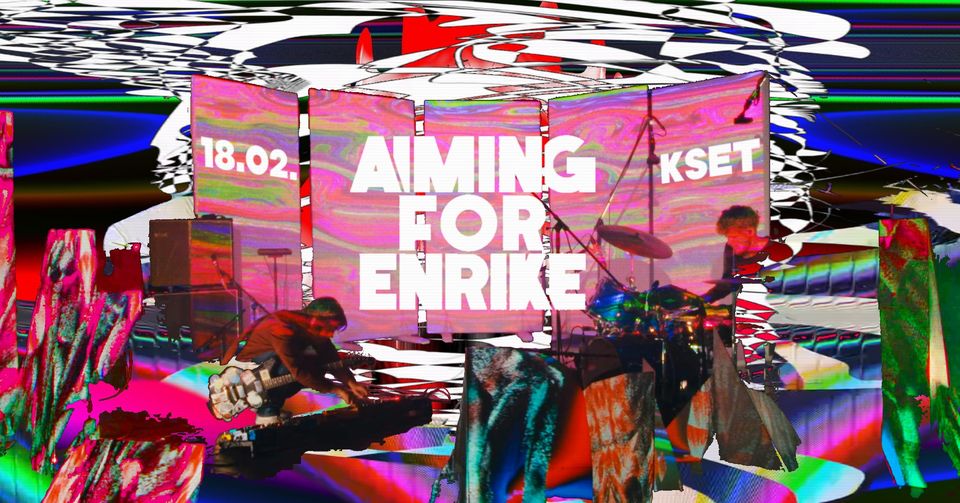 February 18, 2023
Aiming for Enrike
Time: 8PM
Venue: KSET
Country: CRO
U subotu, 18.02. u KSET dolazi math-kraut duo Aiming For Enrike i donose sa sobom novi album i brdo novih blipova i blupova.
Srž ovog norveškog minimalističkog dua čine bubanj, gitara i pedale. Zavidna kompleksnost postiže se snimanjem loopova u stvarno vrijeme, stvarajući slojevit aranžman tekstura, bas linija, cikličkih ritmova i hipnotičkih melodija na koje bi im možda zavidjeli Battlesi (ili VVhile i Plastic Knives ako volite narodno).
Na novom materijalu dvojac se još dalje naginje u svoju elektroničku prirodu, inkorporirajući synthove za bubnjeve, za gitaru i za ljude. No, nema razloga za brigu, pred tobom će i dalje nastupiti samo dva kul lika, a svaki kul zvuk bit će proizveden, snimljen na licu mjesta, samo za tebe.
Za svoje skretanje u kontemplativne vode bend krivi između ostalog Ashru, Nilsa Frahma, Belew era Crimson, Jona Hopkinsa i Stevea Reicha. Ako išta možeš zaključiti iz ovoga, to je da Simen Følstad Nilsen i Tobias Ørnes Andersen, članovi našeg dua, imaju dobar ukus, a znamo da to često biva presudno. Ono što te očekuje je ugodna večer profinjenog skandinavsko-minimalističkog kraut-ambijenta, åååååååå.
Aiming For Enrike dolaze nam s dvije nove ploče i puno nove opreme. U 2020. letjeli su na krilima Music For Working Out albuma, a sada nam dolaze promovirajući još vrući Empty Airports, vani na Jansen recordsu.