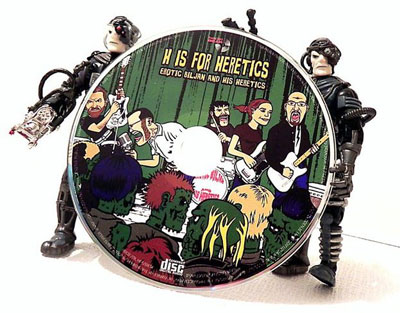 Ako ste ljubitelji žestokog garažnog punk'n'rolla, uvek radi poslušati furiozne bendove, nalik na one sa legendarne Crypt etikete, imate jak razlog da posetite Mali klub Akademije, u subotu 4. decembra, kada ćete moći da čujete ono najbolje što hrvatska garažna scena trenutno ima da ponudi!
U okviru turneje kojom promovišu novi album, u goste nam dolaze Erotic Biljan And His Heretics, trenutno jedan od najslušanijih i najaktivnijih rock'n'roll bendova u Hrvatskoj.
Erotic Biljan And His Heretics, uz Bambi Molesters i My Buddy Moose, važe za favorite tamošnje muzičke scene.
Prvi album Supersticky objavili su 2007. godine za Dancing Bear Records, a pre samo mesec dana izašao je i drugi album H Is For Heretics za istog izdavača.
"H is for Heretics" je dobio sjajne kritike i već ga smatraju najboljim ovogodišnjim rock'n'roll izdanjem u Hrvatskoj.
Na novom albumu gostuju Remi iz grupe Elemental, članovi sastava Mangroove i Shoot Me Wendy, te Iggy Knucklehead, poznatiji kao Harp Explosion Thee One Man Band – koji su, uz prepoznatljivu garage rock estetiku Heretika, doprineli stvaranju opako dobrog muzičkog izdanja.
Erotic Biljan And His Heretics do sada su nastupali ispred MC5/DKT, Supersuckers, Juliette And The Licks, The Cynics, The Fuzztones, The Nomads, The Morlocks…
Podršku na Akademiji pružaće im beogradska grupa The Cruellas, sa svojim specifičnim blendom garaže, surfa i horor punka.
Koncert pocinje u 22h, cena karte je 300 dinara.
web:
(Visited 14 times, 1 visits today)