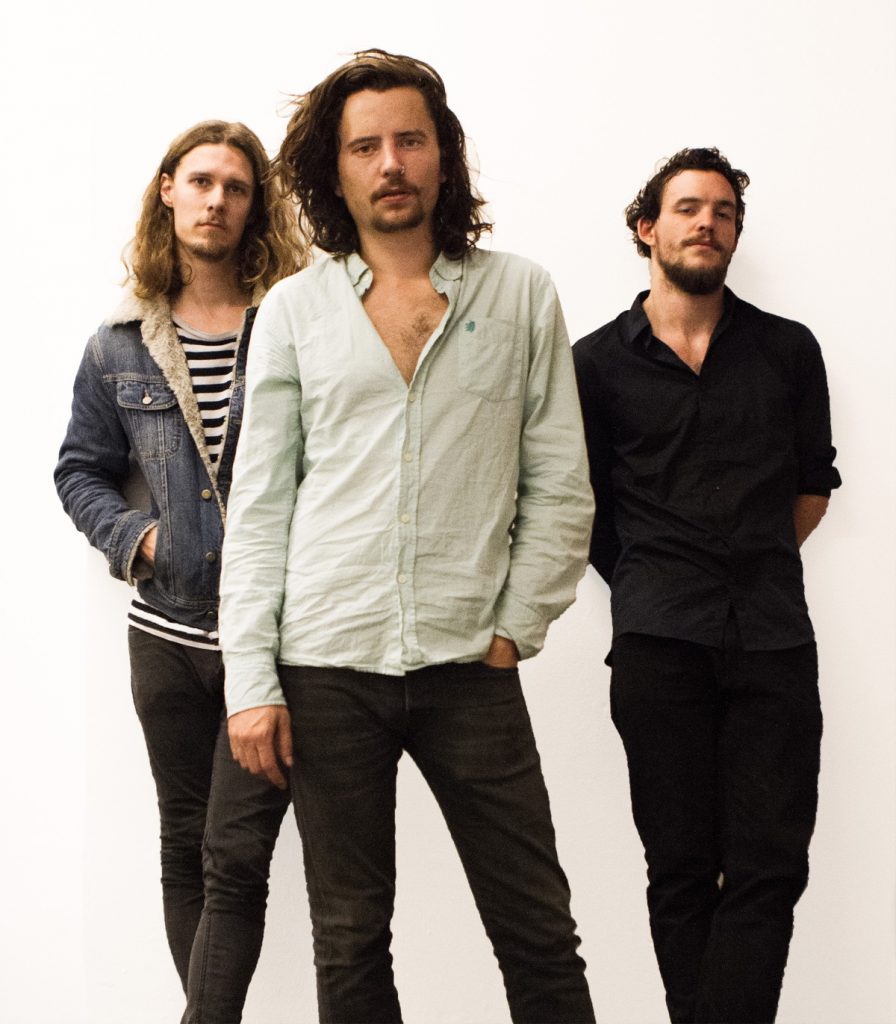 Mother's Cake is Austrian psych/prog rock band formed in 2008. in a small village in the Tyrolean Alps.  They have released three studio albums and the most recent one No Rhyme No Reason is the reason of their European tour when the group will play in Belgrade, on April 10. 
Before the show in the venue of Atom Akademija, guitar player Yves Krismer talked us about the beginnings of the band, concerts with some of the greatest rock'n'roll artists, new album and upcoming Belgrade gig.
RS: What was the greatest impact for you to start playing mixture of psych rock and prog rock?
Yves: There is no "greatest impact", it's more like the things you pick up on your way as a musician. When I was 12 or 13 I was completely into Hendrix, these things you can't get out of your system and the longer you play the more you get acquainted to more styles. Recently I jammed with a guy and he was into Django Reinhardt stuff, it was mind boggling…
RS: What memories do you carry when we talk about your beginnings? You started in tiny cellar, if I am correct?
Yves: I recall very long rehearsals and a lot of beer, and of course a tiny dirty cellar…by the way, its still the same cellar…
RS: You played as a supporting band to well-known artists such as Deftones, Omar Rodriguez Group or Wolfmother. Could you tell us your impressions about that?
Yves: It is always an honor to share stages with such legends and after a while you realize they are "also" just normal people like you and me.  That always amazes me again. But I don´t share stories that would not be fair. (laugh) 
RS: Also, you performed with AC/DC. What was your experience playing with one of the biggest band in music history?
Yves: We experienced only the audience, and that was extraordinary.  We never met the band they were, to us, sealed away. But also standing sidestage when AC/DC played, was an humbling experience, the dimensions are so huge –in every aspect.
RS: Last year you released your third record "No Rhyme No Reason". How is this album different from previous ones?
Yves: After all these years you change as a person and so does your music. To me music is like a mirror, its reflecting how you felt at a certain time.  As an example: When we wrote "Love the Filth" our second studio album. We just came back from this to us long tour with Anathema and Glenn Hughes and realized how drained you can be from such a lifestyle. I also saw that it is not that easy to be permanent on tour and write at the same time, all our lives changed drastically and you can hear that in the songs.  For NRNR we had a different approach and we had far more time to write, and we really tried to focus on the songs and keep it simple.
RS: How did you end up with that title? Does it have some deeper idea or meaning?
Yves: In its very wicked way, its very deep (laugh) – cause it reflects how we approach things nowadays. We are very intuitive everything happens in the moment and tends to have no deeper meaning it just is s snapshot of the moment, but don´t take that answer to seriously. (laugh)
RS: Can you tell us a bit about your working process? Who is the studio boss? How do you decide which songs are going to be on the record?
Yves: I do a lot of stuff at home. Recording, pre-production… then we go to our cellar and jam it really hard and everybody of the guys has to bring his personal feeling into the song. At the end we are very democratic, everybody has his vote.
RS: Considering your name, do you like mother's cake? What do you usually eat when on tour?
Yves: Sure, we like a good piece of cake, who doesn't… 😉 On tour, mostly meat and Greek yoghurt, you know the fat one.
RS: What would you try, speaking of music, you haven't tried yet? Maybe recording with some special producer or in some special studio?
Yves: We are happy kids, when we want to do something, we do it…at least try it. Last summer we want to do a live album and we looked for a special location to film the whole concert. Benni (bass player) said, hey lets go to the Bergisel Stadium in our hometown, first everybody laughed, cause its a huge ski jump arena – production was a nightmare, but you know what – in the end we did it!
RS: This will be your first time in Serbia. What do you know about our country? Generally speaking, do you like discovering new places and playing in front of new audience?
Yves: Really looking forward to it! Part of the thrill being in a band is to travel and see all the places you never been and meeting the people there. I believe if everybody had to travel at least a year in his life, we would have far less racism and prejudices. Cause you see everywhere are awesome people and everywhere you get the chance to meet an asshole, it no matter of nationality. Many Serbians live in Austria and some are my friends, of course the civil war is still in the minds but, I hope especially in these days, when it seems that we don´t learn from our past, we find a way to live together.  Live and let live – that's the way.
RS: Can you tell me about new bands or new records from Austria which deserve to be mentioned in your opinion, sort of a music recommendation for our readers?
Yves: There are so many; Giant Ant Eater, Spiral Drive, The Fictionplay, Intra, Parasol Caravan, Blitzpop, Stuhl Gang, Bilderbuch, Von Seiten der Gemeinde, Rebel Music, Bug, 5KHD, Leya, Belphegor, Serenity, Wandl, Mavi  Phönix….to name a few, the scene is so rich – go and check it out.
(Visited 169 times, 1 visits today)