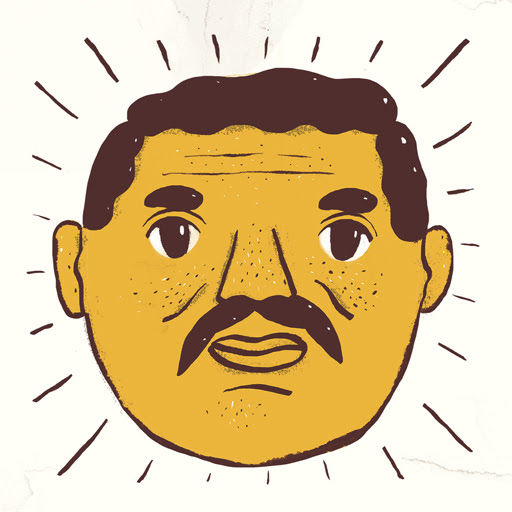 Antonio Gramentieri is one of the most personal and revered producers and guitar players of the new Italian scene. He mixes north and south, bluesy and jazzy atmospheres, Africa and Mediterranean, vintage soundtracks and folk music, and defines the sound of modern Italy as warm, elusive, intriguing, mysterious, mutant affair.
He is well-known by his work with Sacri Cuori, but so far he collaborated with plenty of respectable artists such as Richard Buckner, Dan Stuart, Hugo Race, Terry Lee Hale, Alejandro Escovedo, Marc Ribot, David Hidalgo, JD Foster, Jim Keltner and many more. Last year in April, he released solo debut named "Don Antonio".
Currently, Gramentieri is on Eastern European tour, promoting his new record and today he will perform in Serbian capital of Belgrade, so we did a little interview with him about the new beginning, the music that inspires him, his work with Dan Stuart, and, of course, about his recent solo work.
Rock Svirke: At the very beginning, could you tell us, who is Don Antonio?
Antonio: As a character he is the leader of an old style orchestra playing in cruise ships and country fair, somewhere south. A smiling man, with some charme and still some mystery. His music don't come from a specific place, it comes from ALL the places he's been to, at the same time.
Rock Svirke: You are well-known as a member of Sacri Cuori. How did you end up with an idea to start solo work? 
Antonio: Turned 45, decided that it was the time to put my face upfront, and develop some ideas with no other inteference/discussion. Bands, like most family, have only a certain amount of time to look forward, then it is mostly about preservation. In families it might work, in music it does not. At least for me.
Rock Svirke: What would you say are the main differences between Don Antonio and Sacri Cuori?
Antonio: They are two different points in the same map. Sacri Cuori established a way to approach traditions, even the Italian one, with a cosmpolitan touch, without replicating postcards of the past. Don Antonio is diggin' deeper in some of this sonic places, trying to reflect an idea of a new folklore, in the age where national cultures and traditions are melting one in to the other every second.
Rock Svirke: Dan Stuart in one interview said that your music is the perfect background for him, i.e. Marllowe Billings and put down a series of compliments on your behalf. How does this make you feel? What are your impressions speaking of collaboration with him?
Antonio: Dan picked me up and put me in an international circuit, ten years ago or so.I will be always grateful. I love his songs and his way of writing since I was a kid, so I always tried to respect his old repertoire, and to take new songs into the next place. I think we made some very good music together, and some remarkable show, especially as a naked duo.
Rock Svirke: There is an astonishing list of musicians you recorded or performed with, so could you tell us who were the easiest and the toughest ones to work with and why?
Antonio: I did not have a single "bad" experience, so far. Maybe when we worked with the great italian singer Nada, and basically we could not develop any of our sounds and ideas, as it was all already set, I felt I really did not bring anything to the table, and I suffered a bit for that. But it's part of our job. Then: people like Alejandro Escovedo, or Hugo Race ten years ago, that was instant karma, instant love. Dan, Terry Lee Hale, Richard Buckner are known to be tougher to work with, as their mood and feelings can be very extreme. For us it was not. Great experiences. The record I did with Terry Lee is one of the productions I am most proud of, the tour with Buckner was one of the 2 best of my life, and I miss him dearly.
Rock Svirke: Last year, you released self-titled solo debut. Are you satisfied with final product?
Antonio: Yes I am. Jumping off the Sacri Cuori wagon could have been a very well organized suicide, it turned out to be the beginning of something even more interesting, challenging, fresh.
Rock Svirke: Music on "Don Antonio" reconciles blues and jazz, South and North, Mediterranean and Africa, vintage and modern folk. Was that your intention?
Antonio: It was my intention to write music which was reflecting my personal space as a listener and as a musician. To me the era of "genres" is long gone, with or without me in the picture. Not one of this compositions was born with the idea of "let's do something jazzier, now let's go cumbia, now let's stay closer to the italian soundtrack canon". It all kinda happened.
Rock Svirke: Album "Don Antonio" is recorded on Sicily. Does that island gave you some kind of special inspiration?
Antonio: I wanted a place which was italian and exotic at the same time. Sicily has a natural geographical position which is the doorway to many different worlds.
Rock Svirke: Hugo Race, former member of Nick Cave and the Bad Seeds also features on the record. How his presence contributed to "Don Antonio"?
Antonio: We were in the studio recording the 3rd Fatalists record, "24 hours to nowhere" which has been the last Sacri Cuori recording experience, and then tour. I was already in the Don Antonio mood, I had some music which was written after a very tough goodbye. During a break I asked him to put some words on top of it. He nailed it in 15 minutes, he was perfect. I am sure we will meet again, in one incarnation or the other.
Rock Svirke: Your music is definitely cinematic so it's no wonder you worked on a couple of movie soundtracks. Could you tell us a bit about that experience?
Antonio: I love soundtracks. I think I always write cinematic music, even when I don't have a movie for it. Whenever I have the chance to do it for real, I am the happiest guy in the world. I did not do a ton of it, but it was always for cool stuff, from "Zoran il mio nipote scemo" movie to the "Hundred to go" miniseries for Fox, or "Delitti" on Fox Crime. I am waiting for David Lynch, any day, since I am a kid…
Rock Svirke: This is not your first time in these area. Sacri Cuori have already played in Belgrade back in 2012. – I don't know if you still remember that show – and you don't hide Kotor is one of your favorite cities? What do you think about countries and people of Balkan?
Antonio: We played Gun Club, a real gun club! I remember it clearly, it was the first time I played in a city where some of the signs were in cyrillic. We came back with Dan a couple of years ago. It's a great city with a great vibe, a great feeling of things happening. Belgrade and Krakow are the 2 cities in Europe I'd move to tomorrow. You also know you have the most beautiful girls in the world, I don't have to tell you.
Kotor is packed with friends, and we had great times there.
Balkans in general is the place where I like to tour the most. It's still diverse, real, it's still a different experience. Unfortunately in year 2018 being "real" sometimes means also the economy is still trying to get to a better place, but when the identity and the energy is there, there is still a reason to go, and a reason to stay.
Rock Svirke: Your tour schedule is quite full. What do you do in that little bit of free time not spent on stage?
Antonio: I slowed down touring these last year and half because I am working on records. Just finished one with The Strange, a project feauring The Bambi Molesters and Chris Eckman. The record with Escovedo gonna be a whole new adventure, I am just back from 2 Texas trips to write with him, and we start recording the day I finish this tour. In general terms, I like to travel with my girlfriend, read and watch movies, and walk or jog in the countryside in the morning. And keep tracks of my old non-musician friends. That keeps you human.
Rock Svirke: Could you recommend any Italian LPs, books or movies that you've enjoyed recently to our readers?
Antonio: Gotta admit I listen and read mostly old stuff. Italy is not in his most forward-looking moment of its cultural life, since a long time.
I recently bought (again!) Ennio Flaiano complete works, and they are still incredible. I also read again Gianni Celati's travelogs, and they are really exceptionals, in the writing and in the images.
Music: I always tell everyone to move from their Morricone-West-based world, and give a chance to other stuff. Nino Rota's work for Fellini is all magic, as we know, incredible melodies and taste, but the Giulietta degli Spiriti one is as contemporary and brave as Italian music can get. Armando Trovajoli, too, has so many hidden gems you could basically spend your whole life listening only to him. He's our Henry Mancini.
(Visited 115 times, 1 visits today)