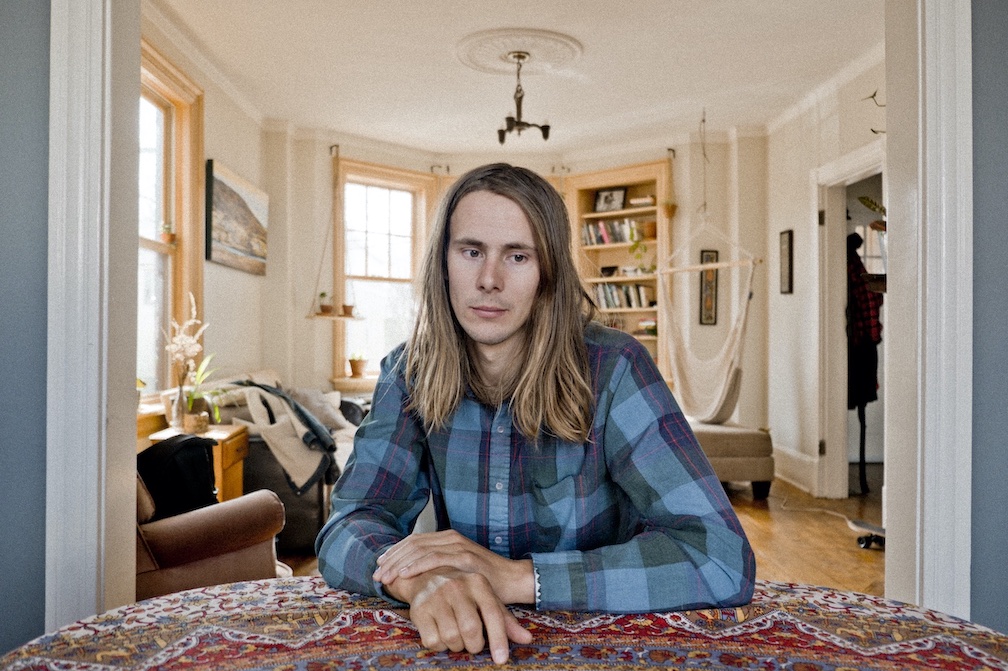 Devarrow (Graham Ereaux) just released a new stand alone track, and a brilliant new video for "Change." 
"Change" feels a bit like an illusive house cat," Devarrow says of the song that has evaded release to this point, but now feels like the perfect time for its unveiling with Devarrow embracing a distinctly more pop-approach to his sound and also feeling aware of how much change he and everyone is living through right now. "It's lived so close to me for years but I rarely see it. So it's nice for it to finally emerge from under the bed and let me show it to you all."
The video was captured in a thrift store, directed by Dom Fegan (who also made "Crashed Cars") where Graham plays a robotic, bored-out-his-mind cashier, until closing time – when everything changes. "'Change' was seriously cathartic and a lot of fun. I dislike that there's this pressure for contemporary folk musicians to have to be kind of melancholic and serious all the time, and this video felt like a great way to push back at that narrative. Sometimes I do indeed feel the seriousness of my art, but a lot of times I feel like a goof, and why not show that side of me too?"
Devarrow released his critically applauded, self-titled sophomore album, late in 2019 via Paper Bag Records. It featuredruminations on information overload, the absurdity of modern wage labour, fears, loneliness and aging all infused within his concise yet scratchy fusion of folk, rock, and psychedelia performed in a stripped-down style, that can in equal measure; make you want to make a cup of tea and think about your life, and get up and dance in your living room.
Following his sophomore LP release in 2019 Devarrow toured across Canada, Germany and Austria. Dates included the Reeperbahn festival and several Canadian support dates with The Dead South.  As we entered our Covid-impacted spring, Devarrow like so many others had to cancel multiple tour dates with a planned April cross Canada tour as well as his March dates at the New Colossus festival in New York City and SXSW in Austin, TX.

He has created a perfect mix of offbeat and brilliantly conceptualized as well as beautifully thoughtful videos for the singles he's already released to date: the folk-infused, keepsake single, "Heart Attack" his self-directed and produced video, shot on an iPhone for his second single, "Home" and "Crashed Cars" an ironic video that playfully examines the conflict between the deep dependency we can create for our modern devices in our lives vs our need to simply get out of the tech vortex, and back to nature. See if you can spot the of 'VR' guy from "Crashed Cars" cameo in his newest video "Change".
(Visited 35 times, 1 visits today)