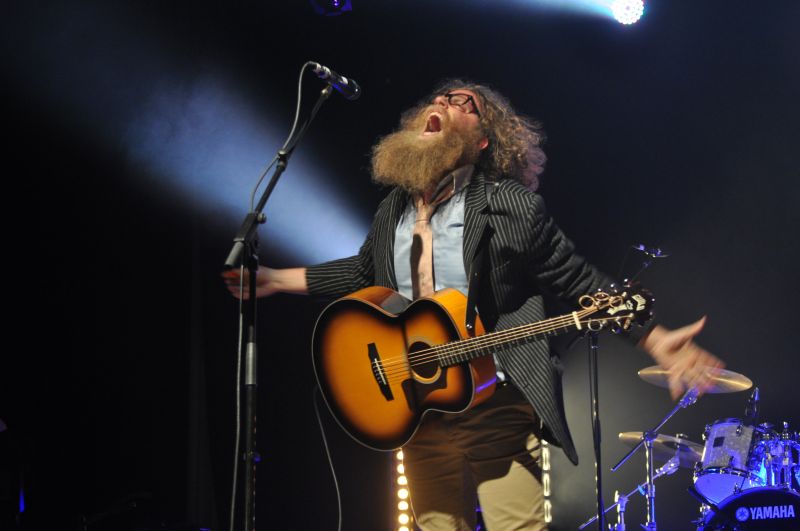 Ben Caplan – Interview, 19.10.2017 @Botel Marina, Rijeka
The charismatic Canadian musician Ben Caplan and his band The Casual Smokers, held 2 concerts in Croatia this year within their European tour, one in Zagreb and one in Rijeka. We had the pleasure of attending the concert in Rijeka, in the unique atmosphere of the venue on the Botel Marina. After a great concert and in a relaxed atmosphere, we sat down with Ben and had a chat.
Rock Svirke: We love your roar. When was the first time you discovered it in you and what kind of a roar was it?
"When I was 16 or 17 years old I had a band, it was called "Ovenbird", we spelled it with two "u's" – Uvenburd – to be cool. It was me and one other friend. When I was in that band we played a lot of shows but there was one gig in particular where I was playing with a band that belonged to a friend of mine. They were a really really good band, everybody went to jazz school, they were all professional musicians, really hip you know. A couple of days later, we were at a party and I was talking to this girl who I've never met before and I said I was from Hamilton, which is the city I grew up in, and she said 'Oh, my boyfriend just played a concert in Hamilton two days ago. He said that the band that they were opening for, the band that was the headliner of the concert, was sooo bad because they were performing at a full dynamic, as loud as they could, the whole show, and it was just the same thing for like 45, 50 minutes. It was just the worst thing that he's ever seen. He thought it was a joke at first and then it just kept going.' And I was like: 'Oh, that was my band.' So, I think that's when I discovered my roar, I think that moment right there. Because I think before that, I was trying to find out how much I could give to the audience and how much power I had with my voice that I could use, and then after that I began to think about how to use less. And I think by using less gave me more power."
Rock Svirke: You are a multi instrumentalist. Have you a favorite one and if so, for what reason?
"Right now, my favorite instrument is the piano. I have a lot to learn on the piano and it's an instrument that is giving me a lot of challenges. And I love the feeling of sitting in front of the keyboard and just feeling the sound pouring off of it."
Rock Svirke: We understand that you don't like to put your music in labeled boxes, genre wise. We imagine you as a kind of a father that says to his songs "Here, I made you, now go and be your beautiful selves in whatever form or shape you choose." Is the process of making songs for you similar to this or are we way off?
"No, I think you're right, but I feel less like a father and more like a foster parent, or an adoptive parent. I feel like a child is been given to me and it's not my job to decide who the child is or should be. I don't know where the child comes from. My job is to try to honor the child the best I can."
Rock Svirke: There is a lot of talk in your interviews about the influence of gypsy music on your work. We read a book recently called "Gypsy music: The Balkans and beyond" by Alan Ashton Smith, where he stated, and we quote: " The figure of the gypsy is simultaneously vilified and romanticized. Gypsies have for centuries been associated with criminality and dirt but also with colour, magic and music." How do you find yourself and your music, figuratively, in this statement?
"Well, I think I try to avoid over romanticizing this archetype, this character of the gypsy –and I prefer to say Romani. I wind up referring to romani or gypsy music because it winds up being a touch stone that people can relate to, a common theme. But when I'm here I prefer to say its Balkan music, its Romanian music, its Serbian music. I listen to Boban Marković…there's a lot of different artists that I listen to but also, primarily, my access to this style is through jewish music because that's my own heritage. And it was through listening to Balkan brass style that I recognized the connection of the jewish music that I already had, cos I'd heard it from long time ago growing up, but I didn't connect with it as music, it was just this other thing. And it was really just when I heard Balkan brass style music I realized that's something that I'm connected with but that I don't write with and so I started to explore it. So, I think that that's one thing I could say, and another thing is that communities that are pushed aside and are not allowed or not permitted for various reasons to interact with the wider society, wind up making great art. It's like injustice and inequality and all of this kinds of things and tight borders between communities make for great art. So, my project is about using the process of my own songwriting to connect different styles and different things, to take this things that had been built in isolated contexts and mixing them together now that the borders are starting to break down."
Rock Svirke: You mentioned Boban Marković already, what do you listen to at home when you're doing the dishes or something? Which bands or musicians you like at the moment?
"I don't listen to that much music at home, but my favorite band right now is probably a great band called Le Fanfare Du Belgistan. And Geoff Berner is one of my favorites, he's a Canadian songwriter."
Rock Svirke: You have played both small and big venues, big festivals even, but have you ever held a concert on a boat that is also a hotel like this one?
"Never. Well, on a boat yes actually. I played on a few canal boats in the Netherlands. But this is the biggest boat I played a concert on. And that is also a hotel, very cool."
Rock Svirke: Is there some new material you are working on, a new album maybe? When can we expect it?
"Yes. I'm gonna go into the studio in February or March. I made a play, a sort of concert/theater matchup and it tells the story of some jewish romanian refugees who left pogroms in 1908 and came to Canada. I made 10 songs for the show so this songs are going to be my next album. And I'm also now starting to tour that play, performing in theaters with actors and doing that thing instead of music for a little while."
Rock Svirke: We just met a guy and girl from Germany earlier, and they said they drove for 14 hours to come and see you play here tonight. That's pretty amazing, what do you say about that?
"Holly shit! (laughs) It's cool, yeah. I mean, it's not the first time this happened to me that I showed up in a venue and people have traveled ridiculous amount of time to come. It's flattering to a certain degree. What I do, I really love it, I enjoy what I do and I feel moments of magic on stage every night. But I don't think about what I do as being so special. I take pride in what I do, I try to do a really good job, I don't think I'm more deserving of awe and respect then a great plumber. When somebody takes pride in their work and tries to do their best every time no matter what, then I think that's something that's deserving of respect. And that's what I aspire to. And so, the fact that some people connect with that and want to travel to be there it's really a very powerfully affirmative response. And it's very flattering, it makes me feel like I'm on the right track."
(Visited 78 times, 1 visits today)