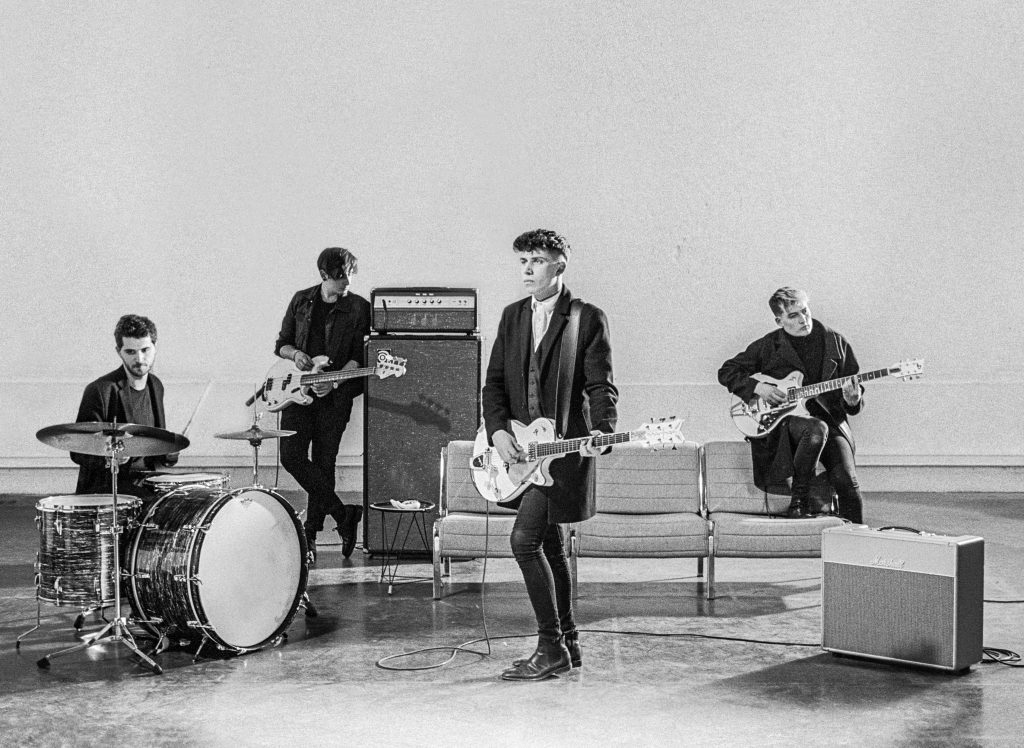 One of the most talented French bands, Last Train, are on a European tour and they will play at the Atom Academy in Belgrade on February 10th. The drummer of this young quartet, Antoine Baschung, took the time to talk for the Rock Svirke website about their beginnings and maturation of the band, concerts with celebrities, as well as about the new album and touring life.
RS: What are your favorite memories from the time you were starting as a band?
Antoine: Oh, there are so many ! Our first rehearsal in my (Antoine) house! 
But mainly I think we all loved our first European tour back in 2014! I think that was when we fell in love with touring… Jean Noël and Julien bought our first van "vito" (RIP) and we have a lot of stories with it! We are pretty nostalgic people so we always like to recall some of these special moments once in a while! 
RS: When you had created the group more than ten years ago, did you think you would get there? Basically, you are the most popular French band at the moment.
Antoine: I don't think we're the most popular band, at least that's not what our bank account is telling us… hahaha. But we're really proud to live from playing rock in 2020! 
To answer your question, I don't think we could have imagined when we were twelve years old we'd live of it! But as time passes by, every year we had new goals to fulfill, and we are doing our best to do it. That's why we keep doing it today, by opening an Olympia next year in France or coming to Eastern Europe now for example. 
RS: Before your debut album "Weathering" you won Prix des Inouïs du Printemps de Bourges. How did you feel about it? Did that prize make an impact on you?
Antoine: Actually it wasn't a priority for us. But this price helped us being recognized by all the venues in France. To give you an example, when we played there, we thought it was at the end of a 23 gigs tour. We couldn't go at the ceremony to get the price because we had a gig that evening…
RS: Your first LP is very rock oriented with hurricane energy and loads of heavy riffs. Were you listening to similar kind of music back then?
Antoine: We often say that a record is a picture of what we are at a very moment. Our first album is a particular case because it's a synthesis of our teenage years. So yes, we had listened to those classic rock albums but you can also hear some new things on songs like "Weathering" or "Time"! 
RS: After that, you opened for Muse and Placebo. What are your impressions about that?
Antoine: It was two really good experiences! We always love to support big bands like this. It's an occasion to play in front of people who doesn't know you. You have to expose who you are in a very little time and convince the audience. Also you always learn something when you're playing with these band! 
RS: You are well-known for your constant touring. How does life on the road suit you? 
Antoine: Touring means sharing our songs with the people and to adapt it every night. That's what we love about it I think! It's also a chance to discover other countries and other cultures like we're doing right now in Eastern Europe!
RS: Let's talk about your new album. Is there any "big picture" behind "The Big Picture"? How did you end up with that title?
Antoine: Basically, The Big Picture describes a love story. When you take time to analyse it over the years. We like multi meaning title, Weathering was one too. So we found out that The Big Picture could also being interpreted as a big picture of who we are now. But it can take as many meanings as people can find… 
RS: You took your time to compose it and even went to Norway to record it. How did it go there? Why did you choose to record in Norway?
Antoine: It was really a great time there. We spent 10 days in this beautiful studio (Ocean Sound Recording). We were with Rémi Gettliffe (our artistic director and sound engineer in studio) and his brother. There was really a family mood. Also the place was perfect to record those songs. It's stuck between mountains and the sea which is really 30 meters from the recording room. The days were really short, it was always a kind of a sun sets, it really put us in a good mood to interpret these songs. 
We chose this studio because we wanted to move abroad and be isolated. So when Rémi showed us some picture of the place we fell in love instantly.
RS: How has your approach to work evolved between your first album and this one?
Antoine: Our first album was really difficult to approach for us! We really are a live band. So, it's difficult for us to fix a song definitively. Also, we recorded Weathering while being on tour so the studio sessions were short and spread out on two years… 
So for The Big Picture,  we decided to take a complete other approach. First we had to rest from touring. We had 300 shows over 3 years so it was time for us to take a deep breath. Also it gave us time to structure all Jean Noel's ideas. He first composed all the melody on the piano and after that, we worked tall together in a rehearsal space in Lyon. It was really new for us because on the first one we were experimenting with the songs on stage. For the big picture we didn't had any ideas of what would be the people's reactions. It was a bit scary. 
RS: Would you say this new album is a bit calmer then its predecessor? Was it your intention to make such a record?
Antoine: We wanted to add an elegant side to our music. It fits much more to who we are today. We wanted to take some distance from the rock clichés. Also this album emerged during our touring years so it's a bit nostalgic too. Finally, having the time to compose it, to rehearse a lot every song, we had time to really work on each melody, harmony etc… 
RS: The grand finale of the record is title song which lasts for more than 10 minutes. You even shot a great video to support it and it seems that song is the pillar of the whole album. What  does this song signify to you?
Antoine: This song was the first one we worked on together for this album. Actually it took us two years to finish it. I think you're right, it is the song that sums up the band's music today. We like to take our time to let the melody set a vibe then break it, playing with dynamics, etc. But thanks to Julien, the music video abstracts who we are, our friendship, what we've already done and our goals. 
RS: You are really busy, especially with your own Cold Fame label. Isn't it too complicated to manage all these things at the same time?
Antoine: For sure, it takes a lot of time, but Cold Fame and Last Train are ci dependent. Jean Noël started Cold Fame Booking to send us on tour. It's also very interesting for us to understand each part of the music industry. So ye,s it takes time but when your passionate you don't count. 
RS: You have also launched your own Midnight Mass festival. Where did this idea come from?
Antoine: As you know now, we're touring a lot and we're really curious about every aspect of music. Tim had the idea for a while and when we had our year off we said "it's now or never". They started to work with Jean Noel who took care of the line-up. Julien also shot some reports. It was very exciting to be on the other side, to understand it! It also gave us the luck to book some artists we love and to make them play together in our beloved city – Lyon.
RS: What is your opinion about French music scene? Could you recommend us some artists and records from your country?
Antoine: There is a real new movement and a lot of exciting bands ! On our festival we had: Lysistrata, Psychotic Monks or Decibelles. They all release LPs recently, go listen to them!
(Visited 38 times, 1 visits today)