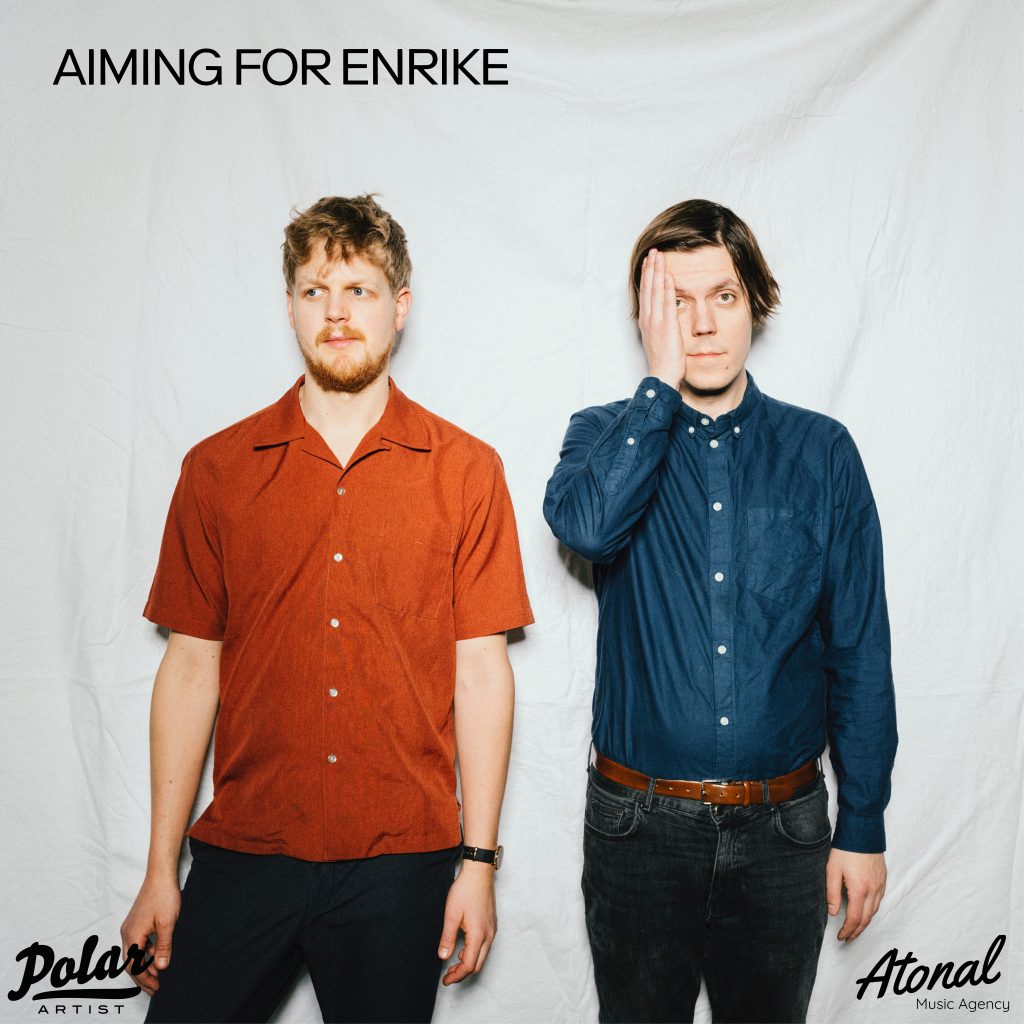 Norwegian duo, Aiming for Enrike, smashed Serbian stages. Fans from Belgrade and Novi Sad had the opportunity to witness the powerful and fierce gigs created by Tobias on drums and Simen on guitar, with the help of numerous pedals, effects and loopers. It was Simen who took time to give a mini interview for our website.
RS: Hi, guys, how are you? Are you busy with touring?
Simen: We're good! The tour has been great so far. It's going to last at least until the end of may so i would say we're pretty busy.
RS: What are you doing during the tour when you are not on stage?
Simen: Aside from driving between cities, we usually look for good food and coffee. If we have time we like to explore the cities. 
RS: How would you describe your music to those who aren't familiar with your work?
Simen: Somewhere between ABBA and Meshuggah.
RS: How did you decide for this unique sound in the first place?
Simen: It just developed into this from the two of us just playing together. Zu, Battles, Hella, Lightning Bolt and Deerhoof were big inspiration when we started.
RS: In my opinion, your latest record is more danceable than your previous efforts. Was that something you intended to do? Have you been listening dance music when you were creating the new record?
Simen: That was the intention. We have always been listening to a lot of electronic music like Mr Oizo, Aphex Twin, John Hopkins, Todd Terje, Burial etc. It has always been a part of our music but this time we decided to dive deep into the dance aspect of our music.
RS: How does your creative process look like? And how do you choose the title of your instrumental songs?
Simen: We usually make the songs in our rehearsal space where we usually start by just playing until something good comes up. Them we focus on that and spend alot of time on the arrangement. We often play half finished versions of our songs live and let them grow in a live setting. The tiltes always come last minute. They sometimes mean something and sometimes nothing at all.
RS: Your songs occasionally have Japanese-influenced titles like "Japan," "Ponzu Saiko," "Nakata Johnny Walker," or "Ushikawa". Are you guys influenced by Japan or Japanese music?
Simen: We like many Japanese bands like Mono, Envy, Downy, skillkills, Goat, etc. and have always had a fascination for Japan. 
RS: Also, you have book references, so are you into reading and in what way books make impact on your music?
Simen: Murakami and Orwell are (I think) the only authors that we have referenced in our titles. We like to read but books never directly influence our music.
RS: You are known for really great videos, so how important is that visual side of music to you?
Simen: Making music videos and live videos is fun. The live videos show the fact that we are a duo. Sometimes that gives the music a new dimension for the listener. When it comes to music videos it has mainly been Simen and his friend Nils making something funny in one day. Hopefully we will make more of them.
RS: What was the last show you have attended?
Simen: Pom Poko in Oslu. Great show.
RS: What is your opinion about Norwegian music scene? Could you recommend us some artists and records from your country?
Simen: It's a small but very good scene. Bands: Motorpsycho, Jaga Jazzist, Sløtface, MoHa!, Spielbergs, Pom Poko, Snoras, Darkthrone, JR Ewing, Dominic, Supersilent, Elephant 9, Moon Relay, Moe, Krokofant, Wet Dreams, Amgala Temple, Death By Unga Bunga and many, many more.
(Visited 15 times, 1 visits today)