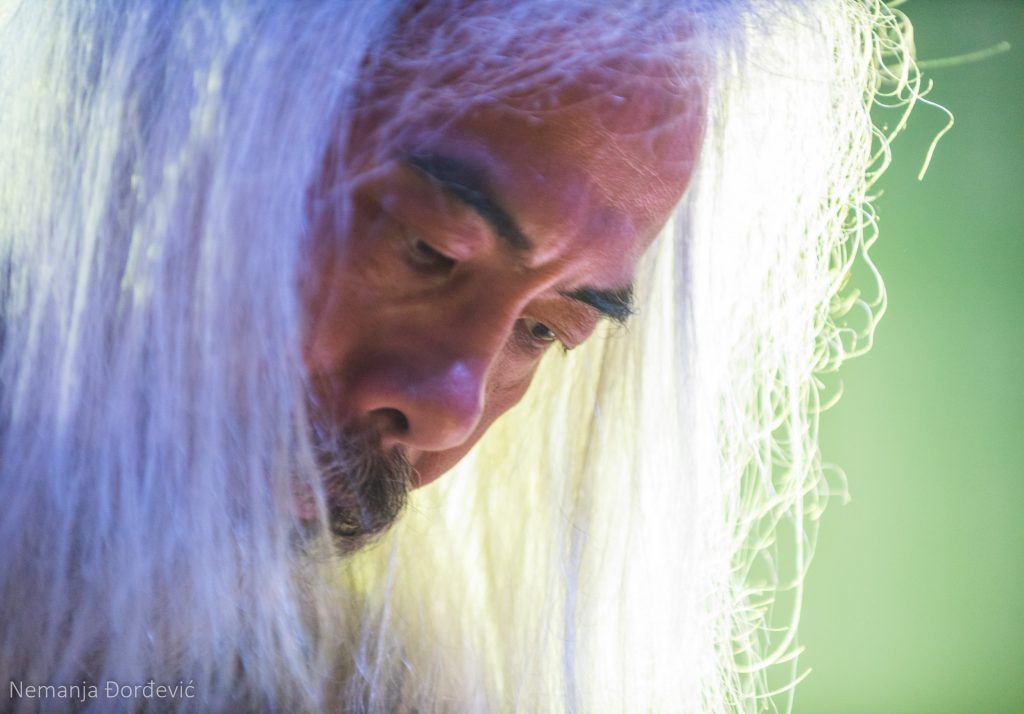 Japanese music collective, Acid Mothers Temple, returns to Serbia for concerts in Belgrade and Novi Sad. Anyone who has been to one of their gigs is aware of the energy and power these veterans are creating. Prior to this mini-tour in our country, a bandleader Makoto Kawabata took the time to talk to us about changes in their group, concerts and the working process in the studio, and the impact of the space on their music.
RS: What is the best way to describe music style of Acid Mothers Temple?
Makoto: We call our music "Trip Music". Our music make blow people's minds and take them to the end of the Universe.
RS: How things have changed since your beginnings in the late 70's until now, speaking of your music?
Makoto: Basically same, I don't change, but I got musical experience, technique, sense and knowledge. So my music become broad-minded. It's not just me, not special. If people can continue to do something more than 20 years, usually everyone can get it.
RS: You consider yourself more of a cosmic translator than a musician. Would you like to explain that? What part does the cosmos play in your creation?
Makoto: Music can teach me what I should play. So I don't need to think anything about "creation"! I should follow just the message from my cosmos. I need to open my ears, and i must be selflessness. Playing music doesn't need any my personality. My personality is just a obstacle for playing music from my cosmos purely.
RS: There have been a lot of lineup changes in the past 5 years. How has that affected the way the music sounds? Has it changed the process of making music and playing it live?
Makoto: The band got younger members instead older members. Especially the drummer Nani has grown up with dance music, not rock. So he can bring lots of new things. I got bored to play stereo-typed, old-school rock music with AMT, cause originally I have played experimental music.
Also Nani has felt same, so he didn't play normal "8th note Groove" for a long time since beginning of his musical carrier. When we play together 10 years ago as duo unit "Human Shower", we felt really great fit each others,
especially feeling about improvised completely irregular rhythm. So we have more possibilities!
RS: How much do you rely on improvisation during your recording sessions and live shows?
Makoto: What is "improvisation" about music? For me, basically, "improvisation" means "playing, arrangement, composing in same time".
It's totally not the same as so-called "free music" "improvised music" and other case… Of course, AMT have songs, but like jazz, we have only themes, we don't know where we will go after themes. Also, even same "song", we play it at different place, in different time, for different people, it's impossible to play same! We have to care about even tempo, acoustic, and many things… So, it's also a kind of "improvisation" for me. We need to play "best version" in each situation.
RS: Few weeks ago, members of psychedelic Chilean band Follakzoid were our guests in Serbia and they told us their "shows are not concerts but "rituals". Would you say it's the same situation with your live shows? Do you think those are more rituals than concerts?
Makoto: Ha ha ha… We are not any "cult", just a music group. Especially AMT play "Trip Music" for people! It means our live is really entertainment!
We wanna make people happy and enjoy at least during our show. Also, "ritual" means really "formalism"… I don't like it!! I need change all the time, nothing is staying at the same place!
RS: You worked with many great artists such as Silver Apples, Träd Gräs Och Stenar, Can, Guru Guru and more. Could you tell us your impressions about that? Are there any musicians you would like to collaborate in the future?
Makoto: I'm really proud that I have played with these giants. Also, they have much more experiences than me, I really respect them. But when we play together as musicians, it's just "musician and musician" as equals. It's the most important thing for playing music. So, even if I play with young musician, even if he's 30 years younger than me, it's also the same, too. But anyway, originators are so great even they become old, they still have lots of power and energy, also curiosity!! So they excite me always!
I really want to collaborate with Captain Beefheart and Albert Ayler after die!
RS: Your tour schedule is quite full. What do you do in that little bit of free time not spent on stage?
Makoto: Until a few years ago, we had been record store! I had always buying tons of vinyls on the tour, around 400 – 500 LPs in each tour.
But recently, our tour schedule becomes more tight and longer. Also, I'm getting older, I need to keep my energy to play music the first! So, all members spend almost free time for cooking! Food is the most important to keep good health condition. We cook separate by each member, coz everyone wants to eat different. If we have to cook together and share same food, it makes stress day by day. We are totally D.I.Y.!
Also, I spend a lot of time for recording even on the tour coz i don't have so much time to stay at my private studio in Japan recently. I have to work even at hotel room after the show! But I read Frank Zappa worked really tight even after the show on the tour!
You know, the life is not unlimited, I think I have another 20 years in the rest of my life. When I remember last 20 years, I feel I could do only few things… Next 20 years means I will get old more, so it's the last season of my life. Ihave to do the best as possible! That's why I don't sleep so long, but I always say "I can sleep after die as long as I want!"
RS: What's the music scene like in Japan these days? Would you like to recommend new bands or great albums from your country which deserve our attention?
Makoto: I haven't been in so-called "Japanese music scene" since when I started my music in 1978. I don't know so many musicians. Also, basically I'm not interested in any new music after 1982… But in mid 80s – end of 90s, Japanese underground music was really prospered at that time. There were so many great bands and musicians, and many people are still playing even changed styles.
(Visited 5 times, 1 visits today)