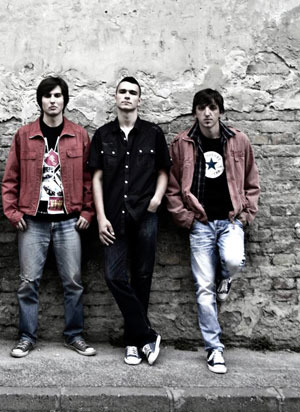 Zrenjaninski bend Empathy Soul Project pobednik je trećeg serijala emisije "Live Shot". Ova emisija emitovana je na televiziji Kanal 9 (Novi Sad) krajem septembra. U nastavku teksta pročitajte nešto više o pobednicima i pogledajte snimak sa nastupa u emisiji "Live Shot".
ESP je proglašen za najbolji bend koji se pojavio u sva tri serijala. Tu odluku doneo je žiri u sastavu: Petar Jelić,Bogica Mijatović, Slavko (Zbogom Brus Li), Lee Man, Ivan Fece Firči. U finalu su se za titulu najboljeg benda nadmetali sa bendovima The Bite i The Petting Blues Band.
Empathy Soul Project postoji od 2011.godine. Bend čine: Nenad Radaković (vokal, gitara), Rade Radojčić (bass, vokal) i Predrag Papić (bubnjevi, vokal). Ova tri mlada momka posvećena su isključivo autorskom radu. Pesme su im na engleskom jeziku, a žanr se može okarakterisati kao mešavina alternativnog i indie rock zvuka. Svirali su kao predgrupa bendovima Neverne bebe, Galija i Goribor. Nastupali su na festivalima: Vojvodina Open (Kula), Riverbell (Zvornik), Dani piva (Zrenjanin), Šumadija fest (Kragujevac), Etno fest (Zrenjanin), a na festivalu Mixer 2012. godine nastupali su na velikoj bini kao bend koji se izdvojio među 50 prijavljenih na konkursu. Klupske koncerte imali su više puta u Zrenjaninu i Novom Sadu, kao i u Kikindi, Smederevu i Zemunu.Gostovali su na Santos TV, Kanalu 9, i u emisijama Gruvanje i Jelen Top 10. Ovaj bend uskoro objavljuje prvi singl, a imaju u planu u spot.
(Visited 64 times, 1 visits today)