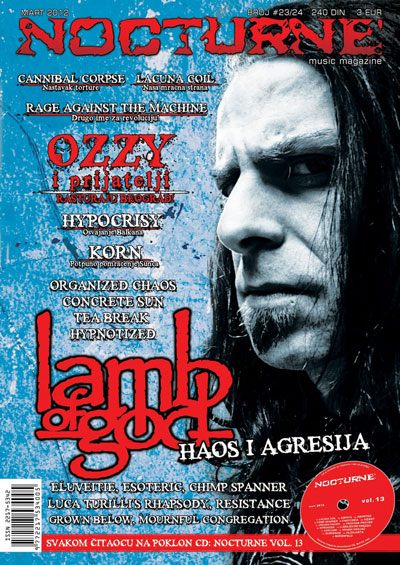 Od sutra, 22. marta u prodaji novi broj Nocturne magazina.
U pitanju je dvobroj (#23/24), cena je 240 dinara + ptt i možete ga pronaći na sledećim prodajnim mestima ili pojedinačno naručiti putem mejla.
U novom broju pročitajte:
Lamb Of God, Cannibal Corpse, Lacuna Coil, Hypocrisy, Korn, Organized Chaos, Concrete Sun, Tea Break, Hypnozied, Resistance, Chimp Spanner, Eluveitie, Esoteric, Morunful Congreagation, Grown Below, Luca Turilli's Rhapsody.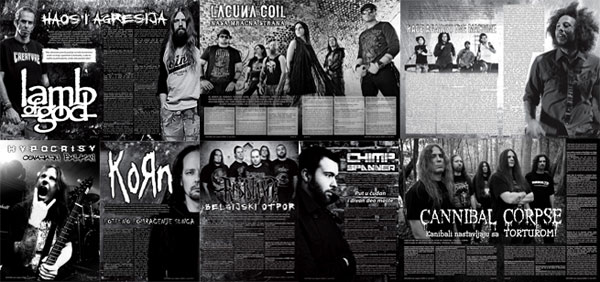 Raporti:
20 godina benda NOVEMBAR @ Feedback, Niš
PERSISTENCE TOUR 2012 @ Gasometer, Beč
Bjesovi @ GUN Klub, Beograd
Sounds Of Extreme Tour @ GUN Klub, Beograd
Partibrejkers @ Hala Sportova, Novi Beograd
God Is An Astronaut @ SKC, Novi Beograd

A3 posteri: Lamb Of God i Lacuna Coil.
Ashmedi's Column, Na Nož!, Soundcheck, Demo Performer (Veto, Deca, Statement Of Hate).
Svaki čitalac na poklon dobija CD: NOCTURNE – Vol. 13
LACUNA COIL – Trip The Darkness
ASPHYX – Deathhammer
ABORTED – Global Flatline
CHIMP SPANNER – Dark Age Of Technology
PANYCHIDA – Ryhope
VIZANT – Krv
CRKVENI PACOVI – Grobljanska
PROFANE PRAYER – Under The Black Sun
NITROGODS – Black Car Driving Man
U ZMAJEVOM GNEZDU – Devolucija
SARCASM – Surrender
HRABRI KROJAČ – Dolazi Sunce
MORDENOM – Above The Mysterious Worlds
VILDHJARTA – Dagger
MARIENFELD – Fajn
(Visited 57 times, 1 visits today)