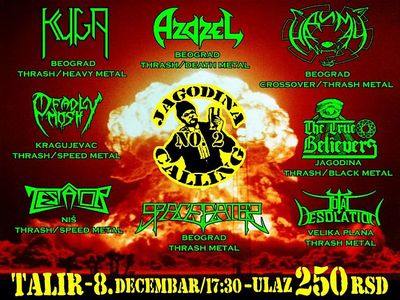 8. decembra, u klubu "Talir"u Jagodini (Mite Balije br. 6.), održaće se jednodnevni muzički festival  pod nazivom "Jagodina Calling festival", i to drugi po redu ove godine.
Ovaj festival, metal usmerenja, koji pretenduje da postane tradicionalni, prvi put je bio održan ubrzo posle "Belgrade Calling festivala", 20. jula ove godine i i okupio je skoro sve bendove sa jagodinske lokalne scene.
Na festivalu će nastupiti osam sastava thrash metal usmerenja, a to su:
Azazel (death metal, Bg),
Nadimač (thrash/crossover, Bg),
Space Eater (thrash metal, Bg),
Kuga  (thrash/heavy metal, Bg),
Deadly Mosh (thrash/speed metal, Kg),
The Thrue Believers (thrash/black metal, Ja),
Testator (thrash/speed metal, Ni),
Total Desolation (thrash metal, Velika Plana).
Početak koncerta najavljen je za 17:30 časova, a ulaznica će koštati simboličnih  250 dinara.
"Niko nema izgovora da nema para i da je skupa ulaznica ovoga puta. Dođite i podržite domaći metal i scenu", lepo su zaključili organizatori.
(Visited 59 times, 1 visits today)