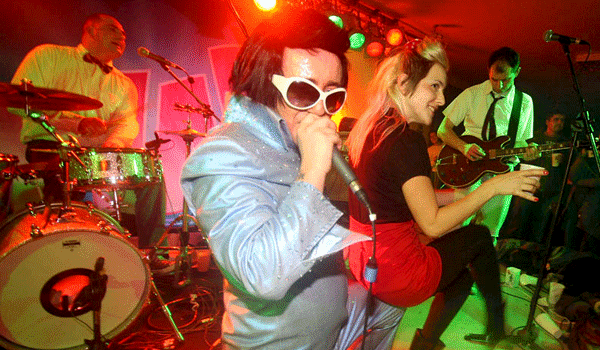 Zagrebačka grupa "D ELVIS" nastupiće drugog dana na Retro Music Festivalu, koji se održava od 29.06. do 01.07. u Novom Vinodolskom.
"D ELVIS" je četvorka koja je dobro poznata publici. Osim pesama slavnog Elvisa Presley-a, izvode numere sastava kao što su: Clash, Sex Pistols, Doors, Joy Division, Ramones i dr. Za sebe kazu da su "vokalno-instrumentalni sastav nastao fuzijom četiri osnovna elementa izložena stalnom utjecaju rock'n'rolla – a to su: Mario- Vjetar (vokal) je tjelesno utjelovljenje Elvisa Presleya, Zec -Voda (gitara), Lana- Vatra (bas) je ritmična poetesa benda čiji atraktivan izgled plijeni i Sven -Zemlja (bubnjevi) najstabilniji faktor benda, čovjek sa jednim licem ali tisuću ruku".
U tri dana festivala koji će se održavati na nekoliko gradskih lokacija tokom dana i svake večeri na Frankopanskom trgu nastupiće:
petak 29.06.
–MOJO STUFF (HR)
–BAD BONES (HR)
–UROŠ PERIČ PERRY (SLO)
subota 30.06.
–CAT PAWS (HR)
–D ELVIS (HR)
–GREASEBALLS (HR)
nedelja 01.07.
–SAPIENS (HR)
–MISSISSIPPI QUEEN (HR)
–THE BLASTERS (USA)
+ DJ program
Ulaznice možete kupiti na prodajnim mestima Eventima ili on-line na http://www.eventim.hr/ po ceni od 150 kuna. Dnevne ulaznice biće dostupne na ulazu po ceni od po 50 kuna za prva dva dana festivala, a 80 kuna za zadnji dan kada nastupaju američke legende – The Blasters.
(Visited 34 times, 1 visits today)