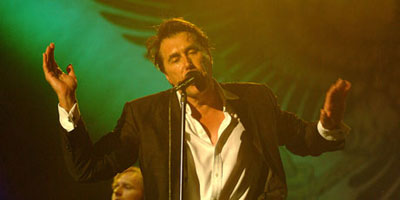 Bryan Ferry će krajem oktobra objaviti novi album Olympia, na kom je sarađivao sa brojnim kolegama.
Poslednja novost je da će na njemu gostovati Scissor Sisters, David Gilmour (Pink Floyd), Mani (Primal Scream), kao i saradnici iz Roxy Musica – Phil Manzanera, Andy Mackay i Brian Eno, objaivo je Pitchfork.
Biće to prvi album na kom će zajedno svirati članovi Roxy Musica još od For Your Pleasure (1973).
Ranije je najavljeno da će među Ferryjevim saradnicima biti i Jonny Greenwood (Radiohead), Flea (Red Hot Chili Peppers), kao i legendarni frontmen sastava Chic, Nile Rodgers.
Na albumu će se naći i pesma Shameless, koju potpisuje Groove Armada, kao i dve obrade – Song to the Siren (Tim Buckley) i No Face, No Name, No Number (Traffic).
Prvi singl će biti pesma You Can Dance (koju Ferry potpisuje sa DJ Hellom), koja će se pojaviti u prodaji 9. avgusta.
Olympia (Virgin, 25. oktobar):
1. You Can Dance
2. Alphaville
3. Heartache by Numbers
4. Me Oh My
5. Shameless
6. Song to the Siren
7. No Face, No Name, No Number
8. BF Bass (Ode to Olympia)
9. Reason or Rhyme
10. Tender Is the Night
{youtube}gho1Akn6GyI{/youtube}
(Visited 79 times, 1 visits today)