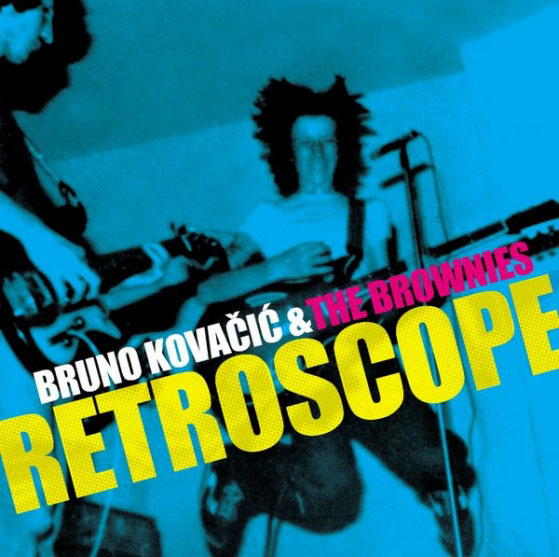 Bruno Kovačić, hrvatski instrumentalista, kompozitor i aranžer, odvažio se da zajedno sa Goranom Delačom (bas gitara) i Markom Lazarićem (bubnjevi) odsvira i izda album "Retroscope" za "Aquarius Records".
"Retroscope" je instrumentalni jazz-rock album na kojem se nalazi osam numera plus dve bonus pesme. Većinu je komponovao sam Bruno, ali se na albumu nalazi i obrada "Pablo's mood" Damira Dičića, za koju je Kovačić nagrađen Porinom za najbolje instrumentalno izvođenje.
Osim dvojca, The Brownies, koji ga je ispratio na albumu, gosti u numeri "Retroscope" su Vedran Božić i Elvis Penava. U već pomenutoj "Pablo's mood" gostuje basista Alen Svetopetrić, Maasej Kovačić (Hammond) u "Chant into the Past" i Predrag Martinjak P'Eggy (synth) u "Snail race".
Uskoro se očekuje promocija albuma u Zagrebu, a ovde možete videti deo atmosfere sa snimanja i čuti numeru "Retroscope":
Spisak pesama:
01. Retroscope feat. Vedran Božić & Elvis Penava
02. Pablo's Mood
03. Chant into the Past feat. Maasej Kovačević
04. Snail Race feat. Predrag Martinjak P'Eggy
05. Cat's Night Out
06. Greetings aus Zagabria
07. Sea Algae Play
08. Smell Yourself
Bonus tracks:
09. Montezuma's Revenge
10.Renaissance
(Visited 67 times, 1 visits today)