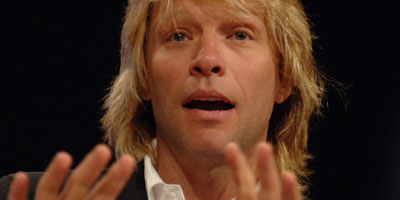 Jon Bon Jovi i Crosby, Stills & Nash primljeni su u četvrtak uveče u Songwriters Hall of Fame, a posebna priznanja dodeljena su Tomu Jonesu i Jasonu Mrazu.
"U noćima poput ove, sve se svodi na jednu stvar: moć olovke", rekao je Rolling Stoneu Bon Jovi uoči primanja priznanja.
"Ako napišeš jednu pesmu koja preživi decenije, onda imaš sreće. Ako napišeš korpus takvih pesama i prime te u Songwriters Hall of Fame, onda je to prestiž."
Bon Joviju je nagradu uručio Chris Daughtry, koji je izveo pesmu I'll Be There For You, nakon čega su Bon Jovi i njegov dugogodišnji saradnik Richie Sambora otpevali Wanted Dead or Alive.
Crosby, Stills & Nash su nagradu primili iz ruku Jamesa Taylora, koji je izveo medley njihovih pesama Long Time Gone, Love the One You're With i Teach Your Children.
"Moram da zahvalim svim sjajnim ženama koje su me šutnule i svim glupim političarima koji su me inspirisali da pišem pesme", rekao je Stephen Stills primajući nagradu.
Posebnu nagradu Howie Richmond Hitmaker dobio je Tom Jones, dok je priznanje Hal David Starlight pripalo kantautoru Jasonu Mrazu.
Ostali dobitnici posebnih priznanja:
Holland-Dozier-Holland (Stop! In the Name of Love, Reach Out, I'll Be There
Andy Williams (Moon River)
Maxyne Lange (izdavač)
Felix Cavaliere i Eddie Brigati (Young Rascals)
Roger Cook i Roger Greenaway (You've Got Your Troubles, i pesma iz reklame za Coca-Colu I'd Like to Teach the World to Sing (In Perfect Harmony)
James Rado i Gerome Ragni
Galt MacDermot
Stephen Schwartz (autor filmske muzike: Wicked, Pochahontas, Prince of Egypt)
Izvor:
(Visited 90 times, 1 visits today)