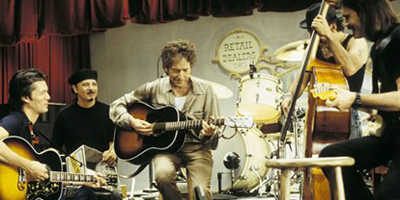 Bob Dylan će održati ipak nekoliko koncerata u Kini na osnovu odluke Ministarstva kulture ove države.
Poznati muzičar je za sada dobio zeleno svetlo za nastup u Pekingu između 30. aprila i 12. maja, a kineski sajt za prodaju ulaznica MyPiao.com je već u ponudi naveo dva Dilanova koncerta – 6. i 8. aprila, navodi NME.
Uslov za održavanje nastupa je i da predstavnici kineskih vlasti odobre listu pesama koje će Dylan izvoditi, a kao posebno problematične se navode pesme The Times They Are A-Changin i Blowin' In The Wind.
Bob Dylan nikada ranije nije nastupao u Kini.
On će narednog meseca takođe održati koncerte u Tajvanu, Hong Kongu i Singapuru, koji su kao deo azijske turneje prošle godine otkazani posle odbijanja kineskog ministarstva kulture da muzičaru izda zvaničnu dozvolu za nastupe u Kini.
{youtube}PlSu0mARDj8{/youtube}
(Visited 59 times, 1 visits today)