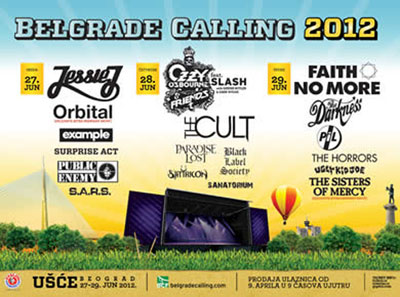 Od 27. do 29. juna u Beogradu, na Ušću održaće se prvi Belgrade Calling Festival. Ono što će obradovati mnoge su velika svetska imena koja će se pojaviti na ovom festivalu.
Ovaj muzički spektakl NIKAKO ne smete propustiti. A evo i zašto.
Program prvog Belgrade Calling Festivala izgleda ovako:
U sredu 27. juna nastupaju:
Jessie J
Orbital
Example
Suprise Act
Public Enemy
S.A.R.S.
Četvrtak 28. jun:
Ozzy Ozbourne & Friends feat. Slash
The Cult
Paradise Lost
Black Lebel Society
Satiricon
Sanatorium
Petak 29. juna nastupiće:
Faith No More
The Darkness
Public Image Ltd (PiL)
The Horrors
Ugly Kid Joe
The Sisters of Mercy
Prodaja ulaznica počinje 09. aprila u 9 časova ujturu. Karte takođe možete nabaviti i na tickets.rs, eventim.rs i gigstix.com.
Više informacija i detalja o festivalu uskoro.
(Visited 78 times, 1 visits today)