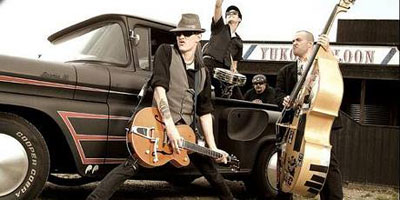 Američki rockabilly bend Al & the Black Cats nastupiće u nedelju, 7. juna, u beogradskom klubu Žica.
Grupu je pre četiri godine u Mičigenu osnovao Al Krivoy, ali se ubrzo razboleo i napustio bend, a ostala tri člana su nastavili da nastupaju i snimaju albume.
Al & the Black Cats su dosad snimili tri albuma: The Fabulous Rockabilly Sounds of (2006), Shakin' At the Knees (2007) i Givin'Um Something To Rock'n'Roll About (2008.), a poznati su po energičnim i na momente divljim koncertima, saopštava organizator Bad Music for Bad People.
Bend će sutradan (ponedeljak, 8. jun) svirati u Staroj Pazovi, u klubu Liverpool.
Početak beogradskog koncerta najavljen je za 22 h.
Izvor:
(Visited 14 times, 1 visits today)