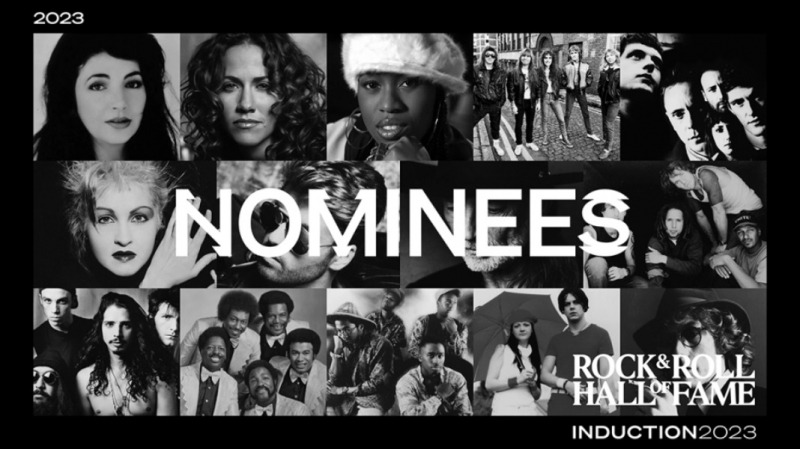 Poznati su nominovani u klasi 2023. za Kuću slavnih rokenrola među kojima su The White Stripes, Kate Bush, Willie Nelson, Soundgarden, Missy Elliott, Joy Division/New Order, A Tribe Called Quest i George Michael.
Ostali finalisti su Rage Against the Machine, Iron Maiden, Warren Zevon, Sheryl Crow, Cyndi Lauper i The Spinners.
Da bi se kvalifikovali za nominaciju, solo izvođač ili bend moraju objaviti svoju prvu komercijalnu snimku najmanje 25 godina pre godine nominacije. Od ovogodišnjih nominovanih, The White Stripes, Willie Nelson, Missy Elliott Joy Division/New Order, George Michael, Warren Zevon, Sheryl Crow i Cyndi Lauper prvi su put u izboru — a The White Stripes i Missy Elliott u prvoj godini ispunjavanja uslova. Missy Elliott je takođe prva hip-hop umetnica koja je nominovana za Rock and Roll Hall of Fame.
Kako su New Order osnovali preživeli članovi Joy Divisiona nakon smrti pevača Iana Curtisa 1980., Kuća slavnih rokenrola odlučila je da spoji oba benda u jednu nominaciju. Sličan potez učinjen je 2012. sa The Small Faces i The Faces.
Rage Against the Machine nominovani su peti put, dok se Kate Bush četvrti put našla na glasačkom listiću. A Tribe Called Quest i Iron Maiden bili su nominovani po jednom pre.
Klasa 2023. biće objavljena u maju, a službeno će biti proglašena tokom gala svečanosti koja će se održati na jesen. Uvedene će odrediti međunarodno glasačko telo od više od 1000 izvođača, istoričara i članova muzičke industrije, uz glasanje obožavatelja na internet stranici Rock & Roll Hall of Fame.
---