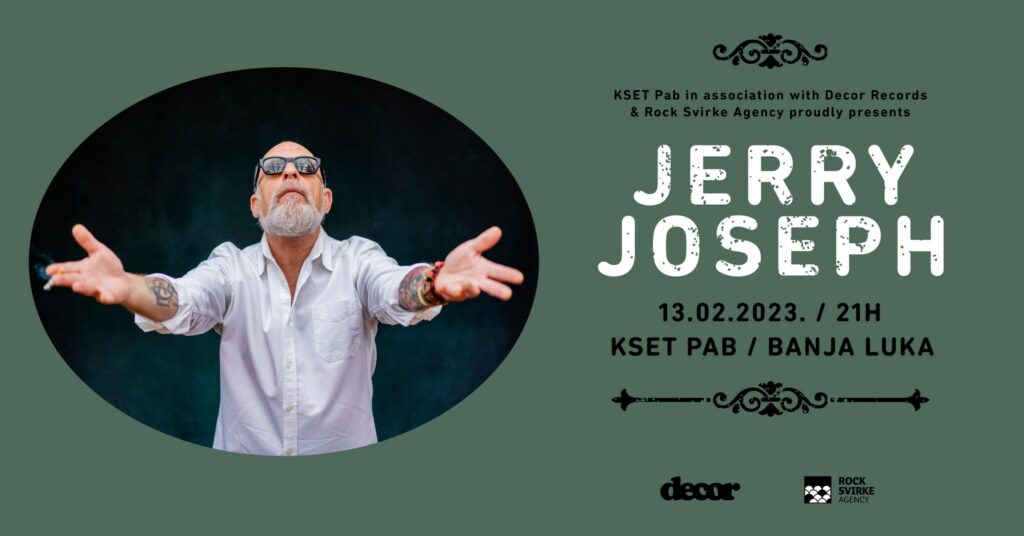 Jedan od najvećih tekstopisaca i izvođača uživo, Džeri Džozef (Jerry Joseph) održaće svoj premijerni nastup u Banjaluci u ponedeljak, 13. februara 2023. godine u KSET Pabu sa početkom u 21 čas gde će promovisati aktuelni studijski album "The Beautiful Madness".
Džeri Džozef je prava "trostruka pretnja": plodan i uspešan tekstopisac, moćan pevač i nezaboravan izvođač. Tokom svoje trodecenijske karijere, kao solo umetnik, sa bendom The Jackmormons, supergrupom Stockholm Syndrome, duom The Denmark Veseys i svojim voljenim kultnim bendom iz 80-ih, Little Women, Džeri je obišao svet, posećujući tako neobične lokacije kao što su Liban, Izrael, kurdski Irak, Indija i Avganistan, dok još uvek uspeva da objavi album svake godine.
Za više od 30 godina, sakupio je impresivan katalog radova, zavidne pečate na svom pasošu i usavršio svoje koncertne nastupe svirajući na svakoj zamislivoj sceni. Džeri je 2018. godine pokrenuo neprofitnu organizaciju Nomad Music Foundation, kroz koju predaje osnaživanje putem muzike, lično isporučujući gitare i podučavajući muziku neprivilegovanim ljudima u ratnim zonama.
Džeri je 21. avgusta 2020. objavio "The Beautiful Madness", gde Drive-By Truckers figurira kao prateći sastav, a produkciju tog izdanja potpisuje njihov frontmen Paterson Hud. Ploča je objavljena za Decor Records u Evropi, Velikoj Britaniji, Australiji i Novom Zelandu i Cosmo Sex School /Soundly Music u Severnoj Americi. Paterson kaže: "Džeri je za mene kultna figura koja bi, u nekoj alternativnoj stvarnosti, lako mogla da bude jedna od najvećih zvezda na svetu. Jedan od najvećih izvođača uživo koje sam ikada video i već duže jedan od mojih omiljenih tekstopisaca."
Ograničen kontinent ulaznica u prodaji je do 16. januara po ceni od 8 KM, dok će nakon toga cena ulaznice iznositi 12 KM. Na dan koncerta za ulaznicu će biti potrebno izdvojiti 16 KM.
---