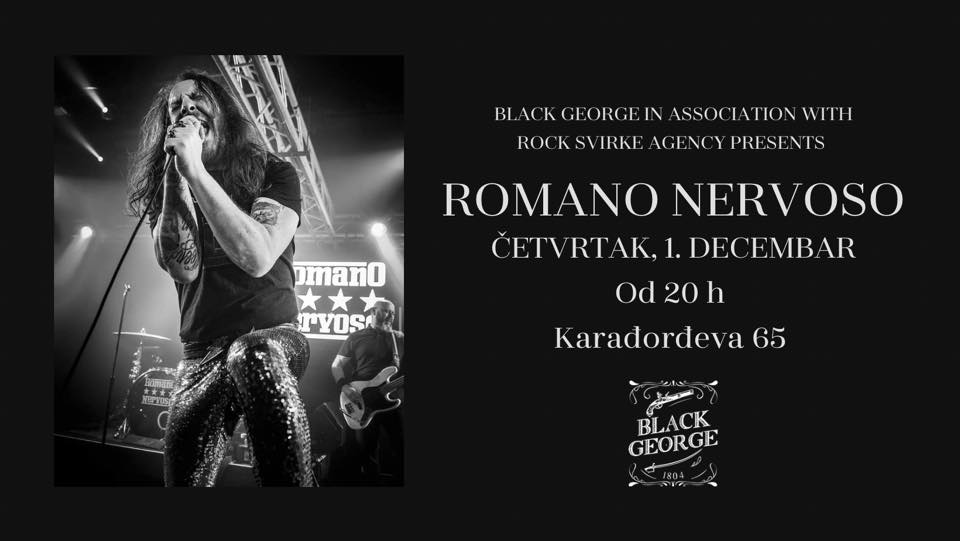 Romano Nervoso večeras će održati premijerni nastup u Beogradu u klubu Black George sa početkom u 21h gde će promovisati aktuelni album "The Return of the Rocking Dead".
Romano Nervoso je italijansko-belgijski sastav koga karakteriše širok spektar muzičkih uticaja odakle su razvili vlastiti stil: spaghetti rock and roll; divlji rokenrol koga sviraju Italijani.
Lider grupe je stekao reputaciju kuma "spaghetti rock" žanra, poznat je po energičnim i žestokim koncertima, a svirao je kao predgrupa brojnim muzičarima kao što su Johnny Hallyday, Triggerfinger, Band of Skulls, Skip the Use, Boots Electric, the Datsuns, the Sonics, King Khan & the Shrines i mnogi drugi.
Od sviranja po lokalnim barovima i tavernama stigli su do pozornica najvećih svetskih dvorana i festivala poput Szigeta, gde su fanovi mogli da se uvere u harizmatičnost i nepogrešivo osoben stil koji poseduju. Njihova muzika korišćena je za potrebe soundtracka serije Mayans MC, spin-offa popularne serije Sons of Anarchy.
Nakon beogradske svirke, Romano Nervoso održaće koncert u Gradskom kulturnom centru u Užicu kada će nastupati zajedno sa bluz legendom Normanom Bikerom.
Ulaznice za predstojeći beogradski nastup se još uvek mogu nabaviti po ceni od 1200 dinara, dok cena ulaznice za koncert u Užicu iznosi 800 dinara. Pored toga, organizator koncerta, Rock Svirke agencija, pruža Vam mogućnost da osvojite 3×2 ulaznice za obe svirke ukoliko odgovorite tačno na nagradno pitanje koje glasi:
Koji instrument je prvobitno svirao lider benda Romano Nervoso?
Vaše odgovore možete slati na mejl office@rocksvirke.com do 19 časova.
---