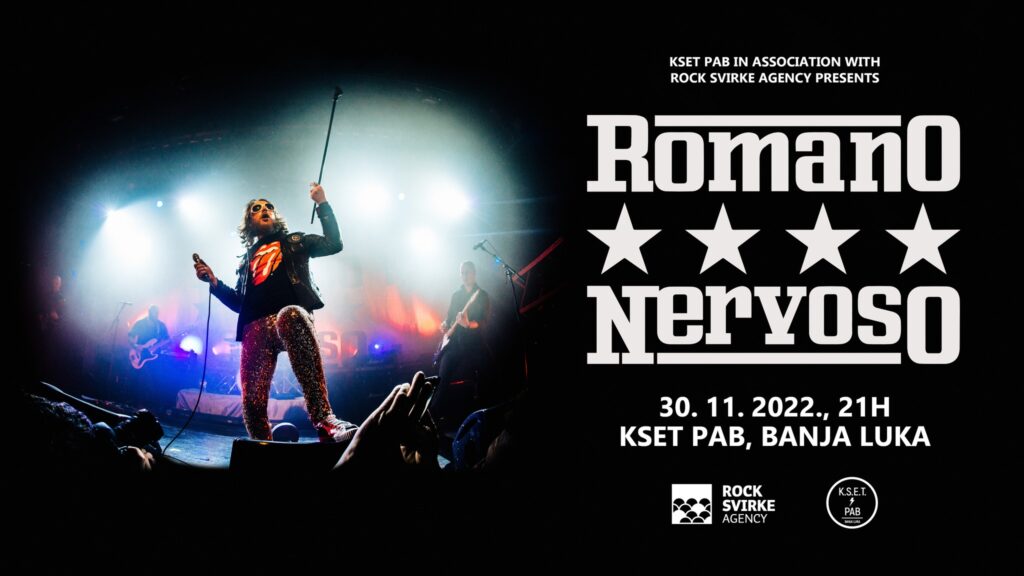 Romano Nervoso održaće svoj premijerni nastup u Banja Luci 30. novembra 2022. godine u KSET Pabu sa početkom u 21h gde će promovisati aktuelni album "The Return of the Rocking Dead".
Romano Nervoso je italijansko-belgijski sastav koga karakteriše širok spektar muzičkih uticaja odakle su razvili vlastiti stil: spaghetti rock and roll; divlji rokenrol koga sviraju Italijani.
Lider grupe je stekao reputaciju kuma "spaghetti rock" žanra, poznat je po energičnim i žestokim koncertima, a svirao je kao predgrupa brojnim muzičarima kao što su Johnny Hallyday, Danko Jones, Triggerfinger, Band of Skulls, Skip the Use, Boots Electric, the Datsuns, the Sonics, King Khan & the Shrines i mnogi drugi.
Od sviranja po lokalnim barovima i tavernama stigli su do pozornica najvećih svetskih dvorana i festivala poput Szigeta, gde su fanovi mogli da se uvere u harizmatičnost i nepogrešivo osoben stil koji poseduju. Njihova muzika korišćena je za potrebe soundtracka serije Mayans MC, spin-offa popularne serije Sons of Anarchy.
U aprilu 2020. godine objavili su novu ploču 'The Return of the Rocking Dead' za Mottow Soundz etiketu sa pratećim bendom koga čine gitarista Greg Chainis, bubnjar Lucas Lepori, basista Fabrice Giacinto, odnosno drugi gitarista Ruggero Catania.
Novi album najavljen je singlom "Wild Boy" gde mu društvo pravi stari saradnik Danko Jones. "U pitanju je ljubavna pesma, ali nije nužno o ljubavi između dvoje ljudi, mada može biti shvaćena i na taj način, ukoliko vam se tako sviđa, ali je više o onome što volite da radite sa strašću, ono što čini da se osećate živo, divlje. Upravo to je ono što ja osećam u vezi sa muzikom", izjavio je Nevoso povodom ovog singla.
Ulaznice za ovaj koncert mogu se kupiti po pretprodajnoj ceni od 12 KM, dok će na dan koncerta cena ulaznica iznositi 16 KM.
---