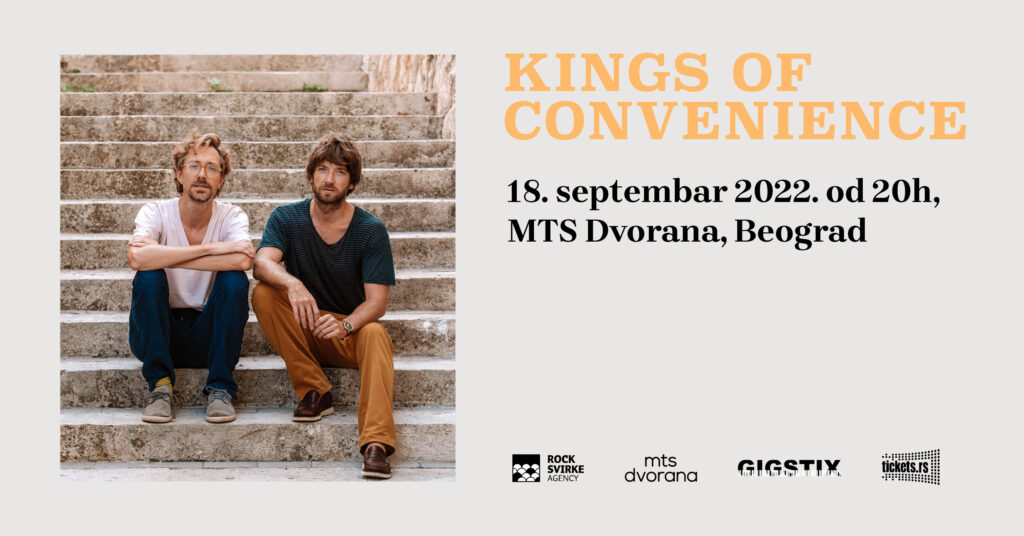 Hvaljeni norveški duo Kings of Convenience održaće svoj premijerni nastup u Beogradu, 18. septembra 2022. godine u MTS dvorani sa početkom u 20h u organizaciji koncertne agencije Rock Svirke.
Ulaznice se mogu kupiti po ceni od 3.600 dinara na prodajnim mestima Gigstix-a, blagajne MTS dvorane, kao i prodajnim mestima Tickets-a. Napomena da je 90% kapaciteta dvorane prodato, tako da se očekuje da će koncert biti rasprodat. Na sam dan nastupa za ulaznicu je potrebno izdvojiti 4.200 dinara.
Poznata je i kompletna satnica:
19:00 Ulaz
20:00 Kings of Convenience
Kings of Convenience je indie folk-pop bend koga čine Erlend Øye i Eirik Glambek Bøe. Njihov nenadmašno naslovljen debi iz 2001. godine, Quiet is the New Loud, produciran od strane Kena Nelsona (Coldplay), učinio ih
je nenamernim začetnicima novog talasa intimne, akustične muzike.
Tri godine kasnije objavljen je drugi album grupe pod nazivom Riot on an Empty Street. Video snimljen za "I'd Rather Dance With You", drugi singl sa ploče, našao se na vrhu MTV evropskeliste kao najbolji muzički spot te godine.
Njihov treći album pod nazivom Declaration of Dependence objavljen je u oktobru 2009. Usledila je dvanaestogodišnja diskografska pauza kako bi svetlost ugledala ploča Peace or  Love u sklopu čije promocije bend dolazi u srpsku prestonicu.
U četvrtak 15. septembra, tri dana pre prvog beogradskog Kings of Convenience koncerta, u klubu Lisabon u mts Dvorani od 20h biće upriličen događaj gde će puštati muzika sa svih njihovih albuma, ali i ona koja je inspirisala njihovo stvaralaštvo, odnosno bendova na koje je norveški duo uticao. Ulaz je besplatan uz prethodno preuzimanje ulaznice na blagajni MTS dvorane. Muziku pušta Vladimir Skočajić Skoča.
---